Rachel Zoe's Curated Subscription Box Of Summer Travel Essentials Includes Missoni
J. Ryan Ulshe for Box of Style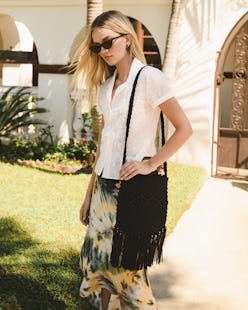 As we hurtle towards July, our minds and feeds are consumed with summer travel. Whether you're embarking on a European tour or simply plan to spread your vacation days over a multitude of long weekend jaunts, you'll be needing a few essentials. Rachel Zoe's subscription box of summer travel necessities is designed to deliver everything you'll need, directly to your door. The stylist-turned-designer taps her network of brands to curate five luxury items valued at over $400, for just $99. (You can sign up for one season, or a full year at a slight discount.) I sat down with Zoe to find out what she selected for the Summer 2019 edition of Box of Style.
The Trend Piece
"It's not summer without a cult trend, and crochet and macramé are it for 2019," says Zoe who cites designers like Michael Kors, Chloe, and Altuzarra, and also happens to be wearing a macramé-trimmed dress from her Summer 2019 collection. To give her members a packable entrée into the trend, she selected a macrame crossbody bag with wooden top handles from Danielle Nicole. "We opted for a black, lined version, because it's versatile enough to wear from sightseeing to dinner," says Zoe. It's a subtle enough take on the trend to also be appropriate to wear in your day-to-day life at home or even to the office.
The Statement Jewelry
Zoe doesn't exactly embody a restrained approach to jewelry, but she recognizes that the majority of women don't want to travel with their entire jewelry collection in tow. "Vacation dressing is all about effortlessness. You want pieces that aren't too precious and can be worn multiple ways," says Zoe, who often helped her A-list clientele pack for trips. "I wanted a lightweight, resilient item that added some personality to any color palette, so I chose these lucite hoops and offered members a choice between opal and tortoiseshell." Their neutral shades make them approachable, but they're large enough to take center stage, making them the perfect travel companion.
The Skincare Essential
Year round sun protection is a non-negotiable, but it's particularly important to find a good formula for the summer. "I'm constantly on the hunt for lightweight, full-spectrum coverage I can wear alone or under makeup," says Zoe. She landed on Glo Skin Beauty's Oil Free Moisturizer with SPF 40 +. The veil-thin formula, which is paraben and cruelty free, blends easily and provides great hydration. All the better for keeping skin plump and glowing in the dry summer months. "Plus it's travel size!" Zoe says.
The Beauty Staple
Makeup that stays on through sweltering heat is a constant challenge and one that has led many of us to eschew much of it during the summer months. "I do still want to look polished, so my summer beauty typically consists of sun-kissed skin, a groomed brow, and a stained lip," says Zoe, who also cites her sunglasses as a beauty staple. Providing her members with a versatile, travel-friendly beauty staple was high on her list, so she opted for Benefit's cult brow gel in a clear. "The formula is clear so you can layer it over pencil or wear it alone, and it says in place all day and all night," says Zoe, who claims to have even worn it swimming. Extra bonus? You can use it to smooth baby hairs when slicking locks back into a low bun or ponytail, a versatility that makes it worthy of a spot in any traveler's dopp kit.
The Luxury Piece
"For me, summer is all about bright colors and bold prints, and Missoni embodies exactly that," says Zoe. The Italian house is one of Zoe's longtime favorites, probably in part because she counts Capri as one of her regular travel destinations, and she wanted to share the luxury brand with her members. "You can never have enough plush towels, and this multicolored version is one I hope members will use forever." The iconic zigzag stripe also makes for a good beach selfie.
Sign up to get the box here.