Rachel Zoe's Curated Mother's Day Gift List Is Available On Gilt
Courtesy of Gilt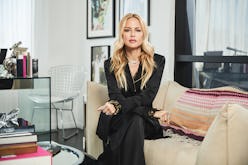 Who better to point you in the right direction when it comes to Mother's Day shopping than mother and stylist-turned-designer Rachel Zoe? Not only does she know first hand what moms actually want, she also has a keen eye for glamour, which is ideal when you want to gift your mom something special on Mother's Day. This year, Zoe partnered with luxury site Gilt, which offers insider-level access to coveted designer pieces, on a limited edition curation available through May 6. Since Zoe is a longtime Gilt shopper herself, it was a natural collaboration. "I hope this curation with Gilt gives shoppers a seamless experience and helps people discover items that they might not typically shop for on their own," she says. Featuring a wide range of home and style goods, there is arguably something for every mom personality, all at a fraction of their original retail prices. Here are a few of our favorites.
For The Mom Who Just Wants To Drink Her Coffee Quietly In Bed
For moms, particularly new moms, the once-taken-for-granted concept of enjoying a cup of coffee while reading the newspaper in bed on a Sunday morning feels particularly decadent. While she may never get to achieve this lofty goal, giving her a plush, monogrammed bathrobe will at least make the walk to the coffee maker feel a bit more luxurious.
For The Mom Who Used To Wear 6-Inch Heels Every Day
"I run around after my sons in platform heels, but I know not everyone does," says Zoe. For those who don't (or perhaps do but want to encourage otherwise), a pair of head-turning flats are the ideal gift. A highly feminine pair like these silver Prada mules will pair beautifully with breezy dresses and off-duty denim, and they're sure to put a smile on the face of any shoe-obsessive.
For The Mom Who Has Been Trying To Schedule A Facial For The Past Year
Getting away for an hour-long treatment can be an impossible feat for a busy mom. Instead of gifting her with a stack of sheet masks that will undoubtedly be either eaten or unwrapped by a curious toddler, get her a tool that will amplify the benefits of all of her favorite products. The D'Or Digital Sonic Lifting Device will do just that, takes mere minutes, and even has a warming and cooling setting — perfect for those early morning under-eye bags.
For The Mom With Multiple Kids
A mom with multiple kids needs to tote around all of her personal essentials, along with an inexplicable cornucopia of kiddie accoutrements. Ranging from sippy cups to firetrucks and of course, teeny, tiny pieces of Lego that are seemingly designed to be lost, the inside of her everyday purse deserves its own documentary. Gift her with a sleek croc-embossed leather tote, in forgiving black, to add a hefty dose of style to her daily situation.
For The Mom Who Likes Real Clothes But Has No Time
It's not that she doesn't have style, it's that she doesn't have time to put together carefully curated outfits all day every day. Give her a helping hand with a classic blazer that can be worn over a t-shirt with jeans for the school run or alone over wide-leg trousers for a much-needed date night. The fact this Rachel Zoe Collection style feels like pajamas is a benefit that won't be lost on any tired mom. Which, let's face it, is all moms.