How To Stay Productive In A Freelance Job
@mia_colona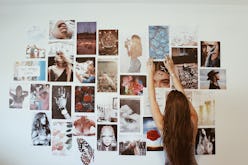 Shedding the security of your desk job to freelance can be both exciting and incredibly overwhelming. I learned this firsthand when I quit my 9 to 5 to start my own creative consulting business; it was hands down the best and most challenging thing I've ever done.
To give you a little background, last year I made some major personal and professional changes. I went from living alone in a 400-square-foot studio in NYC's West Village moving into a two-bed, two-bath apartment by the beach in Los Angeles with my boyfriend (after more than a year of long-distance dating). Oh, and on top of all that, I didn't have a job lined up.
Fear of the unknown scares most people, but in general, it's something that I've always found strangely exhilarating. I've never been particularly fond of routine or structure, and when I first arrived in California, I felt excited about getting a fresh start in a new city. However, once I settled into my new home, I suddenly had mixed emotions. My relationship was thriving, I was happier and more in love than ever but, professionally, I felt completely lost. I just couldn't seem to wrap my head around what my career path would look like in Los Angeles.
I worked so hard in New York, but was having a tough time carving out my next career move on the West Coast. Should I go in-house with a brand? An agency? A publication? A PR firm? The more I considered my options, the more confused I felt. After a few glasses of red wine, and a long FaceTime call with my best friend, I realized I had hit a fork in the road.
"What do you want to do?" my friend probed. "I'm not asking you, 'What do you see yourself doing?' But what do you actually want to do?" Without really thinking it through, I blurted out, "I want to work for myself." In that vulnerable moment, something clicked: I wanted to pursue freelancing.
The first step was very similar to a typical job search — I began tapping my network to let people know I was looking for work. While the majority of my connections were in New York, most were willing to pass my information along to colleagues or relatives based on the West Coast. I scheduled coffee or lunch with anyone who agreed to meet with me in an effort to expand my sparse California contacts. I researched brands and clients I wanted to work with, started putting proposals together, and sent countless cold emails. It took persistence, but I believed in what I had to offer and set my sights on the bigger picture.
It started off slow and steady, but once I had locked in my first client, it became easier to build from there. In fact, it felt like I blinked and the word "multitasking" took on a whole new meaning. Instead of just working on projects specific to one brand, I was managing multiple deadlines for different clients simultaneously. This also meant I had to wear several hats — for one client I would be building an influencer marketing campaign; for another, I'd be physically shooting content. While I felt lucky to be able to fulfill my passions for both innovative strategy and visual storytelling, I admittedly had a hard time finding a productive workflow.
Unlike the days when I worked on a team where everyone made respective contributions, it was now solely up to me to push projects across the finish line. As a freelancer, you are the one holding yourself accountable at all times. You're also your own accountant, administrative assistant, business manager, and more. In theory, it seems ideal to have full control, but without a solid plan in place, it can be difficult to navigate.
For instance, at first I thought working out of my apartment was a dream come true. On days when I wasn't out shooting, I answered emails from bed, stayed in my pajamas until 3 p.m., and heated salmon in the microwave for lunch without having to worry about eye-rolls from my co-workers. But after awhile, this so-called plan was a recipe for disaster. I was less motivated, had a hard time concentrating, and often found myself getting distracted by menial household tasks. ("We really should repair that crack in the ceiling" ... "Maybe I'll throw a load of laundry in" ... "Did I water the plants yesterday?") I ended up having to make up for lost time during the day by working later into the night (and sometimes into the early hours of the morning) in order to meet deadlines. I'd wake up feeling tired and groggy, and the cycle would repeat itself the next day.
It became apparent that if I wanted to continue to grow, I needed to make some adjustments. I started with resolving to wake up for normal office hours and getting out of the house first thing in the morning. I forced myself to go to a.m. workout classes, shower, and get dressed for the day as if I were going to an office. I found local coffee shops with work-friendly environments that instantly increased my productivity. I started making lists, prioritizing my workload, and dedicating certain hours to specific clients, which in turn helped me to set important boundaries with both others and myself.
Amy Holdsman, president and CEO of Essential Leadership, gives similar advice. "The best way to build new and productive habits is setting a schedule," she says. "For me, that's brewing the coffee, walking the dogs, and starting my day. For others, it's creating the non-negotiable. I have a client who had not yet created any boundaries and her 'yeses' took control of her calendar."
Once I began organizing my time in a thoughtful way, I suddenly felt much more connected to what I was doing. One of the biggest benefits of freelancing is the fact that you can build your calendar around your own needs, and not just your clients' timeframe (although that's important, too). I identified things that were important to me outside of work — working out regularly, hiking with friends, beach time with my significant other — and incentivized myself to stay on track by building a schedule that allowed for those activities only when I checked certain things off my list. Deadline-driven projects like social media campaigns had designated days, as did more fluid creative work like photoshoots or brand image consulting. I was no longer constantly trying to switch gears, and produced better work more efficiently as a result.
"There is no magic pill for ensuring productivity when you're a freelancer," Holdsman says. "But the key is self-awareness and knowing what works for you."
A year and a half later, I can say I'm a proud business owner with multiple clients that range from small, privately owned companies to mass fashion brands. Being my own boss is both rewarding and challenging, but I feel more fulfilled now than I ever did at a 9 to 5. It took trial and error, but once I embraced routine and structure, I learned that both were essential to my success.