This Dress Has Been A Staple In Queen Letizia's Business Wardrobe For Years (& It's Still In Stock)
Carlos Alvarez/Getty Images Entertainment/Getty Images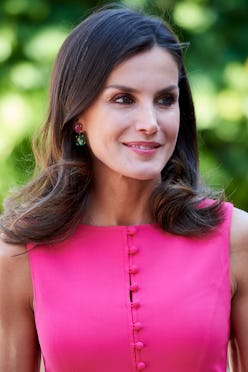 If ever you need a little work outfit inspo, this Spanish monarch has you covered. The royal has mastered the complex art of office fashion, always finding ways to work in runway influences without ever doing a trend too boldly. That beloved striped Hugo Boss dress Queen Letizia has kept around for years is proof.
Two days after the internet went wild over her $30 tweed dress from Zara, Her Majesty is back on her designer game, sporting all three of her favorites — Hugo Boss, Carolina Herrera, and Furla — in one go.
Queen Letizia's royal duties on Thurs. included a visit to the nonprofit Fundeu BBVA in Madrid. She showed up in one of her most beloved dresses, the Franca by Hugo Boss.
She's worn this midi at least a handful of times since 2017, when she debuted it with strappy sandal heels at a school session opening. The Queen sported it again only two months later for her arrival to Senegal, where she visited on business for four days.
The last time she brought the piece out was for a meeting with the Spanish Association against Cancer in July 2018. Now in the third year of its reign, the dress has become a sort of summer wardrobe staple for the Queen.
It's no wonder why the royal won't get rid of it. A striped midi like this will never go out of style. Made of stretch cotton, it must be devastatingly comfortable, too. The dress is designed with cap sleeves and a fit-and-flare silhouette, cinched in the center by an elasticized waistline.
Intricate two-tone, black-and-white stripes give the flowy skirt a faux tiered effect hitting just below the knee as royal protocol requires. It's modest, professional, timeless, and trendy, which is not an easy combination to find.
Despite being years old, Queen Letizia's dress is still available (lucky for you!). Hugo Boss' Franca and similar alternatives, ahead.
Shop The Look