Queen Letizia Just Wore The Perfect LBD For New Year's Eve
Pablo Cuadra/Getty Images Entertainment/Getty Images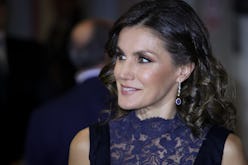 Finding the perfect last look of the year is hard work. Perpetually frigid New Year's Eve certainly has a way of urging people to cancel their midnight plans and opt for an evening in with a fuzzy blanket and takeout instead. There's nothing like a good outfit to get you excited for Auld Lang Syne, though, and Queen Letizia's black sequin dress will have you counting down the days.
On Mon., the Spanish royals attended a dinner at ABC in Madrid to honor award-winning journalists. Queen Letizia, perhaps the most stylish queen in history, wore the dress you've been looking for to complete your New Year's Eve look.
The Carolina Herrera cocktail dress she sported is a sleeveless, knee-length LBD covered in black sequins with a white polka-dot pattern. Structured on the bodice, the dress descends into a pleated chiffon skirt that almost looks like a sophisticated take on the latest tulle trend.
Queen Letizia completed the look with a wispy low twist showing off a set of dazzling diamond earrings and simple black pumps. Her dress choice balanced elegance with glam, incorporating fun sequin polka dots into a safe black-and-white palette and a classic silhouette. Sounds like the perfect subtle-yet-festive piece for New Year's Eve.
Get The Look
The 46-year-old royal has mastered her look. She isn't afraid to sport a risky trend, but always introduces it in a subtle and effortlessly classy way. Days before she stepped out in sequins, for instance, Queen Letizia wore a bold forest-green, bandana-print maxi dress. On Dec. 6, she wore perhaps her most daring outfit yet: a cocktail dress featuring a neckline that reached all the way to her torso (it was covered by lace, of course).
Needless to say, the queen's style is one you should be modeling your own after. You can start by finding yourself one of those stunning sparkly numbers, the chicest way to sport sequins. Ahead, The Zoe Report's favorite Queen Letizia-inspired pieces.
Shop Sequined Dresses