Why Prose Decided To Add Dry Shampoo To Its Custom Haircare Lineup
Courtesy of Prose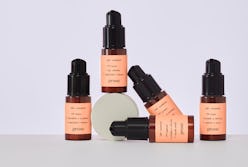 Contrary to its simple name, dry shampoo has become a multitasking product in the haircare world. Sure, one spritz can revive greasy, second-day (or longer) hair, especially at the root. But, more often than not, beauty fans are using their favorite dry shampoos as a styling aid — something that gives volume and grip to the rest of their tresses. This is why formulating Prose's new Dry Shampoo was particularly special; because there isn't just one formula at play.
As you may know, Prose is a custom hair care brand. This means that the products you buy from its website are formulated just for you. Yes, even the new $25 Dry Shampoo, which arrived on the brand's virtual shelves Oct. 14.
"At Prose, we're on a mission to offer our customers the best haircare routine that will successfully address their unique needs and goals," Co-Founder and VP of Product at Prose, Paul Michaux, tells The Zoe Report via email. "After seeing an enormous amount of success with the launch of our custom hair oil, in addition to our core line, we knew now was the right time to once again offer a product that would round out their perfect hair routine: the world's first-ever custom dry shampoo."
But beyond the near limitless customization, each Dry Shampoo from Prose is made from 99 percent naturally derived ingredients (sans added alcohol or fragrance), packaged in a non-aerosol spray bottle, and offers a completely translucent finish. "36 percent of our customers use dry shampoo and it was the number-one product innovation they were asking for, so we listened," Michaux continues. "Our in-house R&D team spent months working on this product, analyzing customer data and selecting ingredients that go beyond any traditional formulas, resulting in the first clean and custom dry shampoo."
And Prose's online consultation test, which it uses to formulate its custom hair care products, is impressively thorough. It'll quiz you on everything from standard queries — like age, hair texture, and length — to seemingly out-of-left-field questions ("How often do you experience stress?" it asked. "Often," I clicked). After you type in your zip code, Prose even rates your current environment's UV rays, pollution, water hardness, humidity, and wind out of 100, noting that these all play into the custom formula it's concocting for you behind the scenes.
When all is said and done, you can choose which custom products you'll be picking up at checkout, which range from shampoo and conditioner to, of course, the dry shampoo. To check it out for yourself — and click your way through the consultation test — visit Prose's website. Below, the brand's new Dry Shampoo, available on Prose.com.