Prose's New Custom Leave-In Conditioner May Be Its Most Versatile Haircare Product Yet
Courtesy of Prose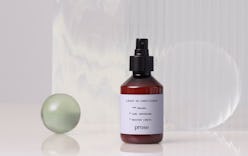 The customizable haircare brand Prose is having its very own moment this fall. After debuting its long-awaited Dry Shampoo Oct. 14, the brand followed up with another must-have only two weeks later: Prose's new Custom Leave-In Conditioner. And, if you think about it, dry shampoo and leave-in conditioners are two sides of the same coin — both do a little bit of, well, everything.
And Prose's Custom Leave-In Conditioner is ready to tackle more than a few tasks. Obviously, it's a conditioner first and foremost; and one that will be totally unique to your hair. To unlock your own $25 leave-in formula, click through Prose's consultation quiz — the brand uses the data gathered behind the scenes to formulate your very own one-of-a-kind Custom Leave-In Conditioner (or any other custom Prose products, like shampoo or conditioner, that you add to your cart). Need extra moisture? Help defining curls? Both? The leave-in is seriously that versatile.
However, even misting on the Custom Leave-In Conditioner doubles as a styling primer according to Prose's Director of Education, Faith Huffnagle. "Spray into palms and apply to damp hair lengths; avoiding the roots," Huffnagle noted in a press email. "Dry and style as usual for softer, more polished strands." And that's all there is to it.
Or, you can use your Custom Leave-In Conditioner strictly as a detangler. To do so, Huffnagle recommends calling on some tools: "Hold bottle six inches away and spray onto damp or towel-dried hair lengths; avoiding roots," she recommended. "Use wide-tooth comb or brush to gently loosen knots."
And while each Custom Leave-In Conditioner formula varies depending on how you fill in the brand's consultation form, Prose has noted a few of its go-to ingredients, and what they do for hair. If you need help repairing or protecting your hair in the future, you may find collagen, lilac, and hyaluronic acid in your leave-in. Grape seed oil, quinoa, and pea protein stops heat styling damage dead in its tracks — while apple vinegar and caviar lime add a glossy shine to your hair.
Basically, the new Prose leave-in does whatever you need it to do. So, what will you discover in your very own Custom Leave-In Conditioner? To find out, visit Prose's website below.