Priyanka Chopra & Sophie Turner Attended A Jonas Brothers Concert In Matching Band Tees — See How Differently They Styled Them
Taylor Jewell/Vogue/Shutterstock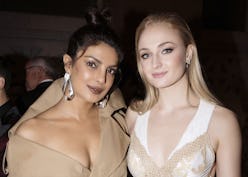 The "J-Sisters," as people are now calling them, are becoming as iconic of a trio as Monica, Rachel, and Phoebe. They don't always hang out together, but when they do, their sisterly bond is simply irrefutable. Danielle Jonas, Sophie Turner, and Priyanka Chopra even coordinated band tees for the Jonas Brothers concert in Miami.
The so-called Jonas Sisters have been getting plenty of quality time together, first with Priyanka and Nick's slew of wedding ceremonies, then with Sophie and Joe's recent nuptials abroad. Chopra's Instagram feed is flooded with family photos with the Jonas clan. She calls her two new besties the sisters she never had.
More photos of the girl gang surfaced on Weds. after the Jonas Brothers concert in Miami. The wives posed backstage in front of their very own step and repeat that read "J-Sisters" under a banner of colorful balloons. They sang and danced together at the foot of the stage and Chopra captured the whole thing on video.
They even wore matching band tees and made them look incredibly cool because they're the most fashionable. Chopra renovated hers into an off-the-shoulder silhouette with cutout sides held together with a gold chain belt. Danielle Jonas sported a white version with a monochromatic pencil skirt. Then there was Turner, keeping it simple as always by tucking hers into a black mini skirt.
It was like a fashion show of three with a "how to wear a band tee" theme. Chopra, for one, is remarkably chic, but Turner — a casual street style queen — has been loving a graphic tee lately.
A week before, she hit the streets of Manhattan in a t-shirt with Gumby on it, which she tucked into a leather mini skirt. Just before that, she was spotted walking the dog in tie-dye. Needless to say, her husband's band merch is right up her alley, whereas it might be slightly left field for an elegant dresser like Chopra.
Still, though, she cut the tee (literally) into a piece that worked for her, sporting the DIY-ed top over a basic pair of black skinny jeans. A girl can only hope to see more of the J-Sisters' collective fashion inspo.
They're pretty good when they're on their own, but they "go together better than birds of a feather," in the words of a Jonas Brothers song.