The Crisp, Classic Bedding You've Been Searching For Is On Sale At Pottery Barn Right Now
Pottery Barn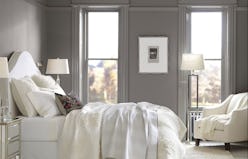 Sure, having a perfectly messy bed is great for an Instagram pic, but nothing beats coming home to a crisp, made bed after a long day at work. To bring you those much-appreciated tidings of comfort and joy, the Pottery Barn bedding sale has discounted the brand's classic duvets, comforters, and sheets for a limited time only. You'll save 20 percent shopping the sale's lowest deals, and up to 60 percent on the more serious scores.
Like many of the great holiday furniture sales, the bedding sale's fine print is complicated, but rewarding. Pottery Barn's annual White Sale features discounts on select bedding products, while the sitewide Gift Event rolls back prices of non-sale products. Use code GIFT to save 20 percent on orders under $1,000 and 25 percent on orders over $1,000 until Dec. 17. Other bedding pieces seemingly aren't apart of any event but are simply on sale, too.
It's no secret that white bedding is a Pottery Barn signature; browsing Pottery Barn's Bedroom Design Ideas & Inspirations page yields not one, not two, but three pages on styling white bedding. The neutral makes a great foundation to build your dream bed's design upon — a white duvet will never clash with any throw pillow or blanket's pattern.
A clean, white quilt is another option if you aren't a fan of duvets' thickness, or want to layer something thinner over a duvet you already own. Go for this queen-sized white Pottery barn quilt, marked down from $179 to $143, for a modern blanket that still feels homey. Up the quilt's subtly feminine pattern by buying the matching pillow shams as well; the shams have an delicate closure on the side that ties into an adorable bow.
Try out technology as you shop the bedding sale. Discounted to $159 from $199 for the queen size, this soft gray quilt is made from Tencel fiber sustainably harvested from forests. Besides being friendly to the environment, the Tencel bedding is wrinkle-resistant and breathable. Browse Pottery Barn's Sleepsmart 37.5 Sheets if you're in the market for a new set, too. The bedding is designed to maintain 37.5° Celsius while you sleep (not too warm, not too cold), with extra moisture-wicking properties. Originally $179, the queen set is on sale for $134.99.
The holidays will be over soon, and after shopping for everyone you know, treat yourself to the gift of beautiful bedding. Ahead, nine classic bedding pieces on sale at Pottery Barn for fans of the brand's comfy, traditional minimalism.