Everlane Is Back At Pop-In@Nordstrom — & With Some New Shades Of These Fall Staples
COURTESY OF NORDSTROM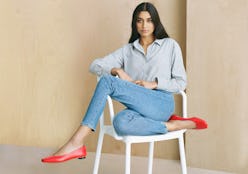 Calling all Nordstrom shoppers: You now have one more reason to hit up the iconic retail destination this season, thanks to the Pop-In@Nordstrom Everlane. Yes, that's right, Nordstrom has brought back the fashion-girl favorite brand, and it's arrived just in time for you to stock up on all the pieces you need to complete your fall wardrobe. That said, you better start shopping sooner rather than later, as styles are already selling out.
Known for serving up affordable, high-quality closet staples, Everlane's essentials will be up for grabs online and at nine Nordstrom locations from now until Nov. 17. The Pop-In@Nordstrom offers more than 200 items for women and men from Everlane, including a slew of the brand's most beloved sustainable pieces from its Clean Silk, ReNew Outerwear, and ReCashmere collections.
"We initially introduced Everlane to our customers in 2017 and had an amazing response. Everlane has evolved so much in the past two years and I'm excited to bring them back for the latest iteration of Pop-In@Nordstrom," said Olivia Kim, Nordstrom VP of Creative Projects, in a press release from the brand. "I continue to believe in Everlane's mission to provide everyone around the world with well-designed, high-quality basics with a strong commitment to sustainability. It's an important opportunity for our customers to stay informed and educated on where their products come from."
Within the shop, you'll find everything from fall-ready outerwear like this cozy cocoon coat, $250, and this oversized blazer, $170, to must-have denim styles such as this $78 light-wash bootcut jean made in a factory that recycles 98 percent of all water used. As for the accessories? There's a range of bag and shoe styles you can choose from, including popular silhouettes like the effortless Day Glove Flat, $115, and the sleek ReKnit Day Glove Boot, $155.
And while the shop likely holds quite a few pieces you've been eyeing for some time, it also delivers exclusive colorways, including new persimmon, pink lipstick, and purple shades in Everlane's Grade-A Cashmere Collection. On top of that, the Tread by Everlane Trainer Sneaker, $98, has been re-imagined in a lightning yellow shade especially for the shop.
Continue on to see a selection of pieces from Pop-In@Nordstrom Everlane below, and head over to the site to view the rest.