Pixi Is Having A Huge Sale Right Now & Yes, The Glow Tonic Everyone Loves Is Included
Pixi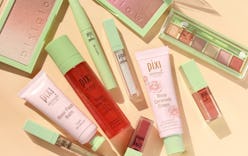 The number of beauty products is constantly growing, and let's face it: It was already massive to begin with. To top it off, these items — particularly with those that fall into the skincare category — often cost more than you'd probably like. And while skin care is a long-term investment, both in time and money, it shouldn't require breaking your budget. Luckily, you can stock up on amazing beauty products during Pixi's Friends & Family sale for less, making it an easy decision to snag those products that have been on your wishlist.
For one week, you can get the London-based brand's most popular products for 20 percent off — and yes, that includes the cult-favorite Glow Tonic (which happens to have a five-star rating based on over 500 reviews). All you have to do is use the code "PIXIFRIENDS19" at the checkout to receive your discount.
With the exclusion of gift sets and sale items, this site-wide sale will be essential to rounding out your beauty closet with new cleansers, moisturizers, and makeup. Plus, the most expensive product is available for just under $30, meaning even if you decide to go all out, you still won't have any guilt about how much you spend.
While you've probably already added the popular tonic to your cart, there are a number of other must-haves to complete your list, too. Create a full set in addition to the Glow Tonic with the Cleansing Gel, currently available for $18, and the Serum, $24, for a daily routine that will leave you with bright and invigorated skin. Or, if you need something that will ensure your skin is moisturized, opt for the Hydrating Milky Mist, which is available before the discount for $15.
If it's makeup that you're looking to add to your collection, Pixi has you covered there, too. Add the Glow-y Powder to your daily makeup routine for an effortless shimmer, or mix a few drops of of the Gold Luminous Oil, which is infused with colloidal gold, into your moisturizer for that extra boost. You also can't go wrong with one of the hydrating Shea Butter Lip Balms or the Endless Shade Stick for for easy-to-use staples for those everyday occasions.
Ready to dive head-first into this sale? Scroll down below to see more cult-worthy products.