5 Bag Trends Blowing Up On Pinterest For 2019
Olivier Degoulange/REX/Shutterstock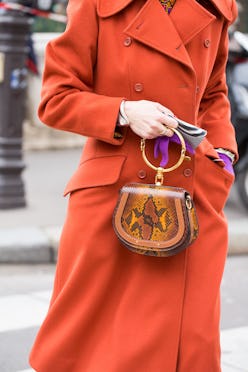 Pinterest has long served as the hub for creative inspiration, whether it be the chicest wedding décor, how to decorate a studio apartment, or the handbag to pick up for spring. When it comes to the latter of these, the site is not only a treasure trove of inspiration for how to wear a new purse, if you dig a little deeper, data can help guide you to 2019's most popular handbags on Pinterest — but also IRL. Consider it a fact-based way to know what other women are eyeing for the months ahead.
The site's searches serve as a litmus test for trends users are keeping an eye on, whether it be re-emerging classics from the likes of Celine, Dior, and Chanel or more contemporary candidates like Staud and By Far. According to Pinterest's user data, bamboo and snake print made the list of top 2019 trends, and these categories rank among the top pinned bags on the site. In addition, while some of Pinterest's top trends are about bold colors or eye-catching prints, other categories are a bit more out of the box. For example, users are eagerly seeking out brands that focus on sustainability and create styles that are environmentally friendly.
If you don't count yourself amongst the sites 250 million users, no big deal. Keep scrolling for the top five handbag styles Pinterest users are obsessing over now.
Bamboo and Wood
The wooden bag trend might not roll off the tongue, but has found sartorial success thanks to fashion girl-approved brands like Cult Gaia and Saint Laurent. Bamboo bags searches have spiked to a 2,215 percent increase in the last few months, according to data released by the site. The natural wood is extremely versatile, making it ideal for a denim daytime look or as a way to dress down a printed dress for night. If wood beads feel like too much, know that woven accents and accessories are a huge hit for 2019 as well — a slightly more subtle take on natural materials.
Snake-Effect
If you were debating investing in a snakeskin bag, it's time to take the plunge as the trend isn't going anywhere. 2019 has no shortage of bold prints and patterns, and snakeskin holds as one of the most popular. Snake print searches are up by 642 percent with snake-effect handbags among the top print picks on Pinterest. To style it, use a structured snake-effect bag to add a sophisticated touch to an otherwise neutral outfit.
Structured
Structured silhouettes have been trending for some time now, but are popping up even more on Pinterest for Spring. These more refined handbags appeal to the Pinterest users who aspire to have timeless-yet-fashion-forward pieces. Classic ladylike bag shapes and office-appropriate styles dominate, including surprisingly refined takes on the belt bag in neutral hues. At the top, modern structured styles from Chanel and Saint Laurent have upward of 40,000 pins.
Pop of Color
Pinterest is a mecca of colorful images, and vibrant statement bags are making a name for themselves on the site. Classic brightly-hued handbags are coming back, in part due to the plethora of options and prices ranges on the market right now. Pinterest users have their eyes on timeless silhouettes in bold colors.
Sustainable Picks
The fashion industry is making strides towards sustainable fashion, and the over 250 million Pinterest users seem to agree as they pin more ethical items on the site. Searches for sustainable fashion are up 34 percent, according to data, with vegan leather belt bags and Stella McCartney totes in the mix. Additionally, sustainable fashion brand Reformation remains high on the totem pole of Pinterest searches as users look for an entirely eco-friendly wardrobe.