This Under-The-Radar Bag Brand Just Landed At Moda Operandi & It's Equal Parts Casual & Glam
Petit Kouraj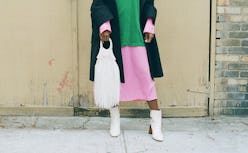 What if your go-to purse was as spirited as you are? It's a question asked — and answered — by each one of Petit Kouraj's bags; fun, fringe-detailed purses, the brand's pieces offer a new silhouette and liquid-like movement. And yes, it's completely reasonable if you don't recognize the brand's name, too. Petit Kouraj is a newcomer, having only launched at Moda Operandi in May 2019.
However, it's a name fashion fans need to watch. Petit Kouraj's mini fringe bag — a $345 purse currently available in black, brown, and ombré on the retailer's website — manages to encapsulate a multitude of summer 2019 bag trends in one fell swoop. The biggest being the return of statement evening bags, i.e. those eye-catching, handheld purses you've been seeing everywhere on social media. Petit Kouraj's take on it adds a casual spin, though; whereas other evening bags may be made out of materials that traditionally evoke evening — croc-embossed leather, crystals, satin — Petit Kouraj's mini fringe bag is purposefully light and organic. Even the bag's black colorway feels airier than the classic evening bag, thanks to the flowing fringe and cotton construction.
Which makes it a worthy option for your day-to-day life. Toss your necessities in it before you go grocery shopping, or pre-brunch date with friends. The Petit Kouraj bag is made for the hustle and bustle: It won't weigh any outfit down or look out of place paired with a sundress, jeans, or the occasional blazer.
Wondering how an under-the-radar brand just landed at Moda Operandi with what could be the bag of summer 2019? It didn't happen overnight. Before launching Petit Kouraj, designer Nasrin Jean-Baptiste worked in fashion, serving as a stylist to celebrities like Alicia Keys. The brand itself was born after Jean-Baptiste visited Haiti, where the Brooklyn-based designer's parents are from; there, Jean-Baptiste was inspired to create Petit Kouraj and discovered D.O.T Haiti — a women-lead organization committed to helping preserve Haitian culture.
Petit Kouraj is transparent about the process that goes into making each bag, as well. The purses are made by D.O.T Haiti artisans using organic cotton, leather, and rayon. The mini bags require over 300 strands of fringe, and take 8 to 12 hours to finish. Choosing to launch this next step in May was purposeful, too: it's Haitian Heritage Month, and Haitian Flag Day falls on May 18.
The result of so much skill and inspiration coming together? One-of-a-kind, handmade bags that'll become a staple in your closet this summer. Ahead, Petit Kouraj's bags on Moda Operandi.