Peter Thomas Roth Reformulated Its Lashes To Die For Turbo Treatment & It's Better Than Ever
Peter Thomas Roth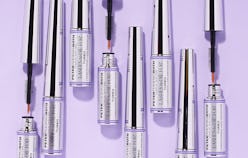 Leave it to Peter Thomas Roth to never stop raising the beauty bar — even when it comes to elevating the brand's own formulas. Peter Thomas Roth's Lashes To Die For Turbo Conditioning Lash Enhancer launched this June, revealing the next generation of the brand's original Lashes To Die For Turbo treatment. And if you used the previous iteration of the lash-boosting serum, you may not even recognize the new product. This wasn't a simple ingredient swap; Peter Thomas Roth altered the lash treatment's tube, formula, and applicator.
It seems like this reformulation will seriously benefit fans, too. Peter Thomas Roth's upgraded formula has already seen eye-catching results: After a 6-week study using the serum, 93 percent of the participants agreed that their natural lashes appeared longer and volumized, and 100 percent noted that their lashes looked healthier.
Chalk it up to the Turbo Conditioning Lash Enhancer's multistep approach. Like most serums, the $85 formula targets the length and thickness of your natural lashes, encouraging them to grow longer. However, Peter Thomas Roth also zeroed in on lash density and fullness; notably, the formula's new peptide complex and biotin are powerful enough to encourage all four steps to naturally-full lashes. To prevent any dryness — and encourage softer, fluttery lashes — the brand also threw in moisturizing aloe vera, antioxidant-rich vitamins, and a Tahitian plankton extract.
However, the biggest change from the original Lashes To Die For Turbo treatment may be the applicator itself. It combines a thin lash serum brush with a classic mascara wand, allowing users to paint the product onto their lash line then really work it through with the bristles. Check out Peter Thomas Roth's official YouTube page if you're having trouble visualizing how it works: The brand uploaded a video on how to use Turbo Conditioning Lash Enhancer that completely demystifies the unique wand. (Pro tip: The video also notes you can apply the lash formula to your brows, too.)
Snag the new Lashes To Die For Turbo Conditioning Lash Enhancer at beauty retailers like Ulta and Sephora, or on Peter Thomas Roth's own website just by scrolling down.