Pat McGrath Labs' Upcoming Star Wars Collection Brings Back A Sold-Out Fan Fave
Courtesy of Pat McGrath Labs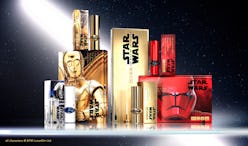 On Dec. 2, there was a great disturbance in the Force — in a good way, though. Pat McGrath Labs' Star Wars: The Rise Of Skywalker collection was revealed, taking the entire online beauty community by surprise with a limited-edition array of glimmering eyeshadows, sci-fi packaging, and R2-D2-inspired lip balm. Though really, it's a collab that makes perfect sense when you stop to think about it: Pat McGrath Labs as a brand has always had its eye on the stars (both in the sky and on the runway).
Unfortunately for shoppers, the upcoming release is still a few days away. The first wave of Star Wars goodies won't arrive on PatMcGrath.com until Dec. 13 — though it will be well worth your patience. The inaugural drop features the MTHRSHP Star Wars: Galactic Gold mini palette ($65), MTHRSHP Star Wars: Dark Galaxy mini palette ($65), C-3PO Lip Fetish Lip Balm in "Gold Astral" ($40), R2-D2 Lip Fetish Lip Balm in "Clear" ($40), and Sith Trooper Lip Fetish Lip Balm in "Nude Astral" ($40). Both new mini palettes play into the drama of Star Wars, with the Galactic Gold mini inspired by the Rebellion (and adorned with C-3PO) and the Sith Trooper-decorated Dark Galaxy mini repping the infamous dark side.
Courtesy of Pat McGrath Labs
Courtesy of Pat McGrath Labs
Then, on Dec. 26, the $40 matte gold Lip Fetish Sheer Colour Balm in "Flesh 3" arrives — alongside the return of the previously sold-out $125 Mothership IV: Decadence eyeshadow palette, wrapped up in a Star Wars: The Rise of Skywalker case. "I'm thrilled to combine the limited-edition release of this collection with the highly awaited return of the sold-out sensation that was the Mothership IV: Decadence Eye Palette. Fans have been asking me daily for its return. I'm thrilled that it's back in cult collectable gold packaging — the ultimate gilty pleasure," noted Pat McGrath in a press email.
Courtesy of Pat McGrath Labs
Courtesy of Pat McGrath Labs
Who, in case you didn't know, is a major Star Wars fan. "We are so excited to work with Disney on this brilliant collaboration celebrating the intergalactic beauty of Star Wars: The Rise of Skywalker," continued McGrath. "The Star Wars characters have become integrated into our culture in such a major way that it's hard to imagine a world without them! Anyone who follows me on social media knows I am obsessed with Star Wars. From the rebellious beauty of Princess Leia to the gilded glamour of C-3PO."
And she's not the only one. Make sure you mark your calendar for Dec. 13 and Dec. 26 — because, in the words of McGrath: "I suggest all my fellow beauty-loving Star Wars fans snatch theirs quick before they are forever gone to a galaxy far, far away."