Pat McGrath Labs Has A *Major* Launch Coming — Here's Everything You Need To Know
Courtesy of Pat McGrath Labs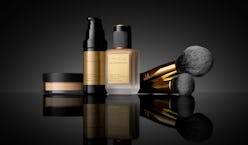 Attention, Pat McGrath devotees: it's happening. On June 12, the makeup artist, mogul, and founder of Pat McGrath Labs shut down the beauty stratosphere by unveiling Pat McGrath Labs' foundation system on her personal Instagram account, @PatMcGrathReal. Yes — system. Launching in July 2019, the Skin Fetish: Sublime Perfection system includes two brushes and three core makeup products: the $60 Sublime Perfection Primer, the $68 Sublime Perfection Foundation, and the $55 Sublime Perfection Setting Powder. "Unlocking the secrets to sublime perfection is as simple as 1, 2, 3. Prime. Perfect. Set. What could be easier?" reads a quote by Pat McGrath herself in a press email.
Although no one could ever doubt McGrath's expertise, she's right. The simplicity of the Skin Fetish: Sublime Perfection collection will make it a must-have for beginners and makeup enthusiasts alike. That, and the products themselves. Available in 36 shades, the foundation seems like it'll be extremely user friendly — it's described as silky, buildable, serum-soft, and (most importantly) self-setting. Though fans who prefer more of a base for their makeup will be able to achieve it, as well; the satin-finish foundation can be built up to medium coverage. (And it doesn't hurt that the foundation itself looks like a bottle of your favorite luxe perfume, too.)
Naturally, Pat McGrath Labs saturated the system with skincare favorites. Hyaluronic acid will help give the primer its silky-soft texture, while the brand's Vita-Serum Complex will ensure the foundation plays well with your skin — the complex actually encourages the production of your skin's natural hyaluronic acid and ceramides; two ingredients vital to a healthy skin barrier.
At a launch event on June 12, representatives from Pat McGrath Labs' team, artists, and longtime collaborators unveiled details behind the collection — such as the fact that 25 years of hard work in the industry had lead to this release, and that the system had been tested on over 300 models. McGrath herself shared one swoon-worthy fact, too: "We have been using it for many seasons," she revealed at the event, adding that the brand had been carefully monitoring how the products performed on the runway. "All the extreme weather, everything, lighting — watching how the system worked."
McGrath also shared multiple unique ways to use the system, noting that the primer can be used on its own — "perfect for menswear as well, I'll say" — or mixed together with the foundation. "The other major secret is using the primer and then just powder, and giving yourself a fresh, but beautiful finish. So it's a way of giving you your own artistry, your own lab," she said.
Ahead, a sneak peek of Pat McGrath Labs' upcoming Skin Fetish: Sublime Perfection system, available this July.