Pandora Just Launched A Whimsical New Collection (& Most Styles Are Under $100)
Pandora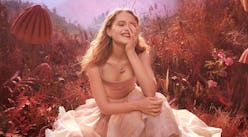 For pieces that are so small, jewelry can make a huge impact. Think about it: When it comes down to putting those final touches to an ensemble, more likely than not, you're reaching for a sleek bracelet or stacking on rings as you run out the door. And when you have the right pieces, they can take your outfit to an entirely new level. If you happen to be looking for a few more options to add into your selection, Pandora's latest collection is full of whimsical pieces that'll transport you into a jeweled wonderland.
Whether you saw the label's sparkling lineup through the windows at the shopping mall or someone in your family gifted you one of its signature charm bracelets, you've probably come across Pandora's pieces at some point or another. The Danish jewelry brand has built a long history of creating enchanting pieces for everyday occasions. And the pieces from its Fall/Winter 2019 collection are no exception.
Available on Pandora's website, the fall collection features a range of earrings, bracelets, necklaces, and more inspired by the fantastical world often described in fairytales. As a result, the new pieces give classic styles like stacking rings and everyday bracelets a unique twist that's perfect for the season — and the best part is, most of the styles featured are $100 or less.
If you're not sure where to start, opt for something timeless, like the Sparkling Wishbone Ring, which costs $65. Wear it along with your other rings to show off a full collection of styles, or nestle it against the $100 Princess Wishbone Ring if you want to have an extra sparkle. For those who have been sporting chic hoop earrings lately, opt for a romantic style like the Asymmetric Heart Hoop Earrings, which are available for $55.
Looking to add a bracelet or two to the mix? The $90 Pandora Moments Leaves & Snake Chain Bracelet will be a great addition to your jewelry box. No matter what you wear with it, you'll have a touch of fall wherever you go. And just in case you want to add another piece to your cart, you can always throw on the Sparkling Leaves Dangle Charm — which is available for $70 — onto it for a mixed-metal look.
Complete this undoubtedly fall jewelry look with the $65 Pink Murano Glass Leaf Hoop Earrings and the $90 Pink Murano Glass Leaf Ring for a full set. And for the moments when you want to take the more minimalist approach, you can always sport the $90 Tiara Wishbone Open Bangle.
Scroll down to shop these pieces and more from Pandora's latest collection below.