Is This Unexpected Accessory Paco Rabanne's Newest Cult Must-Have?
PIXELFORMULA/SIPA/Shutterstock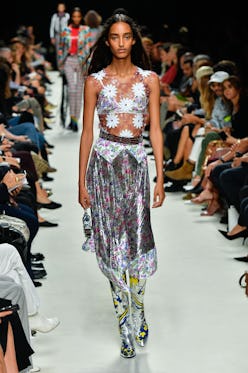 Since its heyday (the first time around, circa 1967), the Paco Rabanne gal has been no stranger to the disco. As the go-to brand for chain mail — and one that knows a thing or two about going-out tops — let's just say the Paco woman isn't just wearing the label's intricate metal pieces to eat popcorn on her couch. Ever since its inception, the iconic French house has been seen in editorials and on muses like Twiggy, Audrey Hepburn, Jane Birkin, and Françoise Hardy. These days, creative director Julien Dossena hasn't been shy about tapping into the Space-Age, chain-mailed pieces that put the label on the map both then and now; But for Paco Rabanne's Spring/Summer 2020 runway collection, things got ultra psychedelic; the collection was a trip every fashion-girl will want to take.
While the fall collection was a celestial, elegant romance with no shortage of royal silhouettes and ornate florals, Dossena upped the kitsch for spring with colorful, oversized polka dots that mirrored the disco lighting of the show, bold, true red hearts, and throwback daisy motifs that just about reincarnated the mid-20th century. Complete with sharp, oversized collars and patchwork, calf-height leather boots, show-goers had to have been wishing they'd raided their mom's closets sooner. (You can expect to see the daisy-print boots just about everywhere next season.)
You won't find this craftsmanship in a vintage hand-me-down, though, as Dossena managed to keep his '60s and '70s references still feeling elevated through the intricate embroidery, glimmering bedazzling, and innovative, often-metallic materials the brand has always been known for. Many looks were also grounded with a humble calf-height sock and Mary-Jane combo, once again seemingly drawing from family photo albums of Easter morning of '69. And despite its loud, clashing prints (seriously: there were plaids, stripes, paisleys, dots, stars, and setting suns), the collection as a whole felt electrifyingly cohesive, as if, all of a sudden, every print in your closet could be worn together with the right styling finesse.
And, many of the collection's standout pieces could actually be just as viable in the daytime as they are for the flashing lights of la discothèque with a cigarette in hand — take the rainbow turtleneck, denim separates or printed, cropped trousers, just begging to be paired with a beat-up graphic tee. (At the show, Peter Saville's ongoing collaboration with the brand, featuring new T-shirts with the words, "Male Tales.") And speaking of fluidity between day and night, the collection also introduced men's looks, which seamlessly offered additional suiting, shirting, and yes, a tuxedo jumpsuit that's begging for Harry Styles.
"Julien Dossena imagines [two perspectives] coexisting: the dreamer and the realist," the brand stated in a press release. "Drawing strength from symbols of naïveté rather than nihilism, he arrives at a vivid expression that is open and endearing – one that acknowledges today's world without yielding to its darker truths."
It's an optimism we're not bitterly closed off to in today's times, but one also has to acknowledge Dossena's ability to tap into decades past in a way that feels optimistic toward the future rather than nostalgic to the past. Because no matter how badly we all might wish to go back in time, the realist truth is that we're doing nothing but moving forward. Perhaps particular collection was a reminder that sometimes, it's okay to leave your problems at home for a late night on the dance floor. They'll still be there in the morning.