Outdoor Voices Introduces A New Fabric That Makes Layering At The Gym So Much Easier
Courtesy of Outdoor Voices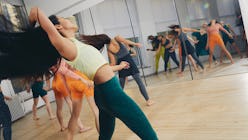 Anyone who's worn the wrong pair of leggings to the gym can explain the difference between workout clothes and athleisure. Workout clothes support you through hot yoga, barre classes, and early morning jogs. Fashion-focused athleisure is typically just as sleek (and sometimes way more stylish) — but one yoga inversion could make it unravel at the seams. However, the Outdoor Voices Studio collection bridges the gap. The clothes are made to look good, feel good, and help you chase that in-studio workout high. Or, as Outdoor Voices' founder and CEO Ty Haney calls it: Endorphinning.
"We've been planning OV Studio for a bit now after hearing from our community that they're turning to studio environments for movement and Endorphinning," Haney tells TZR over email. "We knew our FreeForm fabric was perfect for bendy and stretchy movement, but we really wanted to get it right, so [we] spent time in product development reworking our silhouettes, creating more tonal variations, and applying OV's signature color-blocking aesthetic."
All of the brand's hard work paid off. OV Studio launched Feb. 19, unveiling 10 new Outdoor Voices styles, a newly high-waisted silhouette for the top-rated FreeForm legging, and one new fabric the brand is introducing to its customers. Prices start at $12 for a latex-free Outdoor Voices resistance band (printed with on-brand sayings like "Doing Things > Not Doing Things"), and top out at $90 with the feminine, sweat-wicking unitard.
The clothes are available in a variety of bright colors and gentle neutrals, allowing you to mix-and-match pieces to create new color-blocked outfits on any given day. "We want anybody and everybody to feel sexy and strong in this collection," Haney says. "However you choose to move!"
And anyone who's ever spent an afternoon moving around in the studio can tell you that layering is a serious problem. How do you stay warm before class — with the AC on full blast — and cool post-workout, sans sweat-trapping fabrics or constricting layers? To solve this conundrum, Outdoor Voices introduced the fabric TissueWeave into its pieces. The stretch crepe is airy, light, and chic; the $45 TissueWeave Wrap Skirt looks like a piece you'd spot in beach vacation pics, not at the gym — and it works.
"We wanted to be able to offer an extra layer for those who feel they need more coverage," Haney explains. "TissueWeave is a flowy material that stretches with you, comes in beautiful colors, and makes you stand out. Once you feel it, you won't be able to take it off."
Regardless of fabrics and fits, Outdoor Voices enthusiasts may be most excited by the brand adding resistance bands to its accessories selection — because it may mean the workout clothing company is branching out into gear, too. And what does Haney have to say about more Outdoor Voices fitness accessories? "We're all about becoming a global resource for recreation, and that means providing you with the right tools for #DoingThings," she says. "Definitely more room for us to play, stay tuned."
Keep scrolling down to shop a few pieces from OV Studio, then head over to the brand's website to browse the entire new collection.
Editor's note: This post has been updated from its original version.