Your Favorite Outdoor Voices Leggings Are Finally On Sale For Black Friday
Outdoor Voices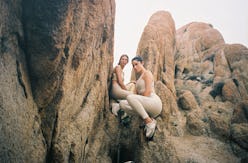 Now that Thanksgiving has come and gone, the holiday season has officially started. If you haven't already started thinking about the goals you'll be setting for the incoming new year, Outdoors Voices is here to help with its Black Friday Sale. Despite the fact that your schedule for the next few weeks may be overflowing with holiday get-togethers and parties, as well as the simple fact that the colder weather makes anyone want to stay inside, nothing will get you motivated to get out and do things like a new set of clothes to do them in.
No matter what you may be planning for your next activity, whether it's spending the last few weeks of 2018 camping with your closets friends and family or starting the new year off on a high note with a new pilates class, Outdoor Voices' sale will make sure you're well-equipped for any adventure. Throughout the weekend, you can get select pieces for 40 percent off. You'll want to start shopping now though — it doesn't get better than this for the cult-worthy activewear brand, and these items are sure to sell out (some of which already have). After all, there's a reason you've seen the brand's iconic leggings and other pieces on editors, influencers, and athletes alike all over Instagram.
Whether you've been a fan of the brand's signature pieces from the time of its early beginnings, or you're eager to finally give them a try, be sure to stock up while you can. You can't go wrong with a pair of the Two-Tone Leggings or Warmup Leggings, which now cost $42 and $44, respectively. Or, if you're looking for something slightly more playful and vibrant, try the 3/4 Two-Tone Leggings in Lavender/Lilac, which costs $42 with the added discount. This pair will easily brighten up your next workout. Don't stop there, though. Complete your workout attired with additional pieces such as sports bras or crop tops. Whether or not you match them with your bottoms, that's up to you. For a classic and flattering style you'll want to wear for every activity, opt for the Double Time Bra, $29. That said, you can't deny how pretty the back of the Tri-Tone Slashback Crop Top is, either. For $39, it'll definitely motivate you for your next trip to the gym.
Of course, if you're looking for some pieces other than leggings or formfitting tops, OV's Black Friday Sale has those included in the selection, as well. This Tie T-Shirt, which is marked down from $45 to $29, will be the perfect top to layer over the rest of your ensemble, and with the tie detail in the back, this is not your average workout shirt. Need a new pair of shorts or two? Go for a pair of the Rec Shorts, $34, or the Relay Shorts, $29. You'll be sure to feel cool and active wearing these.
Along with these pieces, you'll also find pieces that will have you looking forward to the moment the temperatures creep up the thermometer again, such as swimwear, t-shirts, and towels. Because it's never too early to start thinking about that, right?
Now, scroll down to see more of the amazing pieces you can grab from Outdoor Voice's Black Friday Sale.