The OUAI Fragrances That Racked Up A 10,000-Person Waitlist Are Finally Back — For Good
Courtesy of OUAI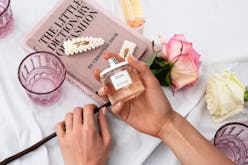 Fans talked, and OUAI listened. Starting July 18, the North Bondi and Melrose Place scents from OUAI's eau de parfum line are officially back, and available to purchase on the haircare and beauty brand's website. And this time, the cult-favorite fragrances are here to stay.
It's easy to see why full-sized versions of OUAI's scents sold out after just three days in 2018 — and inspired a 10,000-person waitlist. They're unique, splicing together notes not often put together, like delicate florals with deeper, hearty musk. "I'm all about a scent that lasts and is a conversation starter," explained Jen Atkin, the celebrity hairstylist and founder of OUAI, in a press email. Of course, you may already know (and love) these fragrances, since they're from OUAI's haircare products: The North Bondi fragrance hails from OUAI's Wave Spray, while you can find the Melrose Place scent in OUAI's Rose Hair & Body Oil.
Which, if you've never smelled a OUAI product before, should be your first scent to shop. OUAI's LA-inspired Melrose Place — which retails for $56 as a perfume — is an icon; one spritz will make you feel a little more luxe, even if you're just about to walk into work. (OUAI says in the product description that it's "infused with hints of a verified Instagram account.") Melrose Place ties together far-flung threads, like cedar, champagne, lychee, and musk. "I love floral and musk scents and I think when they're combined together it's heaven," Atkin noted.
However, that's not to say North Bondi won't win your heart, too: it's just as complex and romantic. "As a native Hawaiian, I will always hold a special place in my heart for beautiful beach towns like Sydney's Bondi Beach. Where the bustle of the city meets the calm of the sea, it's no surprise this place is the inspiration for our North Bondi fragrance," Atkin said. As you may expect, the scent balances this brisk tropical vibe — which comes from a mixture of bergamot and Italian lemon — with rose, jasmine, and violet.
You can order both perfumes on theOUAI.com starting July 18, or pick them up via UrbanOutfitters.com on July 23. If you're more of a smell-before-you-buy person you'll only have to wait until Aug. 9: the perfumes will land in-store at Sephora that day.
Ahead, both fragrances from OUAI's eau de parfum line.