& Other Stories Partnered With This Sustainable Jeweler To Create A Collection Of One-Of-A-Kind Pieces
Courtesy of & Other Stories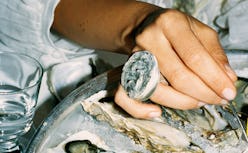 Trips to the beach are exciting for a number of reasons. But aside from the main point being time spent outdoors and under the sun, the coastal setting is also home to several nautical items that are bound to spark some inspiration. And whether you come back with a new sense of creativity or something more tangible, you're bound to take something away from the shore. As for the & Other Stories' Mia Larsson collab, the two brands have come away with both.
Stockholm-based sustainable jewelry designer Mia Larsson has teamed up with & Other Stories — the Swedish brand committed to minimizing its carbon footprint with its customer recycling program — to create a beautiful, one-of-a-kind collection of sustainably made oyster jewelry. According to its description, the capsule is inspired by "the oyster's ability to make a sustainable, intelligent, high-tech material in order to protect itself."
The limited-edition, seven-piece jewelry collection — which has already begun to sell out on & Other Stories' website — includes a necklace, a hair clip, earrings, and a ring. Each of these pieces is made from recycled oyster shells that Larsson collected from seafood restaurants. After washing the shells, the jewelry designer crafted them with recycled silver to create eye-catching, sculptural pieces to wear wherever you go.
Courtesy of & Other Stories
Courtesy of & Other Stories
Whether or not you've already started curating a stylish hair clip collection, the $149 Hairclip will be a unique addition to your accessories lineup. Wear it in your hair for any occasion with a neutral dress as the final touch to your ensemble. If you'd prefer to wear something more unexpected, opt for the Ear Cuff, which costs $79 and will catch anyone's attention at the turn of your head. Of course, you can also go for the $179 Mismatch Earrings if you want to don jewelry that looks and feels like a work of art for your next formal event.
Courtesy of & Other Stories
Courtesy of & Other Stories
In addition to Larsson's upcycled jewelry, & Other Stories has created a capsule of easy pieces to wear throughout summer. Style the $99 Pleated Recycled Polyester Blend Midi Dress with the $59 Linen Blend Corset Top to give the slip dress more shape, or wear it on its own with a pair of leather strap sandals. Need a more casual outfit? Both the $49 Organic Cotton Blend Tank Top and the $99 Sheer Embroidered Linen Blend Blouse will look effortlessly cool with a pair of high-waisted jeans and slides.
Scroll down to see more from & Other Stories' Mia Larsson collaboration.