Thanks To OPI, You Can Now Have A Custom Nail Polish Gift Set Sent To Your Friend's Door
Courtesy of OPI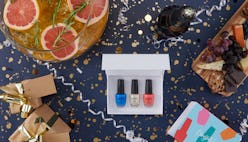 Choosing a nail color for a special occasion can feel somewhat like a rite of passage. Pure emotion goes into it — whether it's contemplating over glitters for prom, debating between a nude and something blue for a wedding, or choosing an eye-catching red before a first date. In a way, this plays into the concept behind OPI's new custom gift sets: "Nail lacquers have always been imbued with personal meaning for their wearers," OPI Co-Founder and Brand Ambassador, Suzi Weiss-Fischmann, said in a press release. "And we're finally taking that experience to the next level with #GiftedByOPI designed to bring joy to their recipients."
Think of it like a bouquet of nail polish. Starting Nov. 26, you'll be able to order an OPI gift set online that's completely customized by you — including how many bottles, which shades, and the packaging's festive design. Prices begin at $34.95 for a three-polish set, and go up to $252 (for an impressive 24-piece present).
"At OPI we believe color is more powerful than you can imagine, it has the power to change behaviors, redefine culture, and improve our world. Our custom gifts and party favors are designed to celebrate emotional moments in people's lives and evoke joy with every gift given or received," Weiss-Fischmann explained.
Moreover, it's a chance for OPI to connect with shoppers "beyond the world of beauty," noted Weiss-Fischmann. "There's something so special about being involved in our customers' most intimate life experiences, like when Mimosas for Mr. and Mrs. is worn for a wedding day or It's a Boy! or It's a Girl! is used to announce a pregnancy," she added.
For each custom gift you order, you get to choose between 30 OPI shades, which range from iconic fan favorites — like "Lincoln Park After" and "I'm Not Really a Waitress" — to pretty shades perfect for a theme (such as "Happy Anniversary!" and "Tiramisu for Two"). Additionally, you can have your custom set delivered to your door, or sent to a loved one for a surprise.
And the timing couldn't be more perfect, too; since with the holidays comes engagement season, work parties, and plenty of occasions for thoughtful gifting. Below, OPI's new custom gift sets, available on gifts.opi.com.