These Insta-Favorite Nail Art Stickers Just Landed At Target (Along With The Perfect Shades To Match)
Courtesy of Olive & June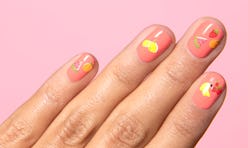 With over 200,000 Instagram followers, the Los Angeles-based nail salon Olive & June has become a dominate figure in the industry — and it happened one nail art sticker at a time. But on May 19, the brand took one very big step from IG into the mainstream: Olive & June's new nail art stickers land at Target — both online and at every brick-and-mortar location nationwide — making the store Olive & June's first retail partner.
"Launching for the summer at Target is the first step in our goal to bring Beautiful Nails to everyone," Sarah Gibson Tuttle, CEO and Founder of Olive & June, tells The Zoe Report over email. "Target strives to really understand what the at-home mani client wants and needs which perfectly aligns with our dream to bring amazing nail products to women everywhere."
The limited-edition nail art stickers also let you easily try out the Los Angeles nail salon's trends, whether you live in California or not. "When we kept seeing strawberries and lemons pop up in some of our most requested in-salon manis — it felt like the next generation of the ever-popular donut mani! — we just had to make the cutest fruit salad stickers," Tuttle says. And while the nail art may be in-demand, the brands teamed up to create a product that's as affordable as it is trendy: Like the other five sticker packs in the collection, a 36-count sheet of Olive & June's Fruit Salad Nail Art Stickers retails for only $7.50 at Target.
But what are nail art stickers without a complementary base coat? To help at-home nail artists figure out which shades to buy, Olive & June teamed up with essie, pairing the new stickers with the brand's salon-quality nail polishes. "We have spent many years being the best of friends with essie — we did a collab with them a few months after we launched in 2013! — so this partnership has been long in the works," Tuttle says. "We feel honored that women across the country will get the perfect summer mani with Olive & June Nail Art Stickers and essie polishes."
Fans can either buy the colors used in the look book (like essie's Fiji shade, which was layered under Olive & June's flamingo nail stickers) or try out their own combination; choose from the brand's extensive lineup of neutral creme polishes to achieve a signature Olive & June manicure at home.
Ahead, all six new nail art sticker sheets from Olive & June, plus a complementary essie shade to consider.