Olay's New Retinol Collection Makes The Luxe Ingredient *Way* More Affordable
Olay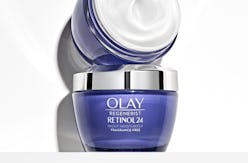 Retinol can seem like a double-edged sword. For all of the many fabulous results it promises (e.g. brighter, bouncier, and smoother skin), there are just as many catches for those with sensitive skin; and to combat the famously irritating ingredient's downsides beauty fans typically need to invest in high-quality — and high-priced — versions of it. But, judging by the Olay Regenerist Retinol24 Night Collection, it looks like change is on the horizon. Released Sept. 10, Olay's new collection offers similar promises as costly retinol treatments without the, well, cost — the new Olay Regenerist Retinol24 Night Moisturizer, Retinol24 Night Serum, and Retinol24 Night Eye Cream retail for just $28.99 apiece.
Better yet, you just need to buy one of the three. "The products have been designed such that you only need to use one of them to get amazing results — you don't need to use the whole collection and can just pick the product form that fits best into your routine," explains Dr. Frauke Neuser, Olay's principal scientist, to The Zoe Report via email. (Dr. Neuser also notes that "users might choose to combine either the serum or the moisturizer with the eye cream — which is totally fine.")
This is because Olay's Retinol24 Night collection gets its name from the 24-hour cycle it operates on; each product is formulated so that the retinol continues to work within your skin for an entire day. And, fortunately, just because it's powerful doesn't mean the collection's retinol will completely wear your skin out. The Retinol24 Night collection enhances its hero ingredient with a blend of the vitamin B3 and retinyl propionate, making it much less likely you'll be left with irritated, post-retinol skin.
"Vitamin B3 has been shown to strengthen skin's natural moisture barrier so that skin can hold on better to hydration and doesn't dry out as quickly," says Dr. Neuser. "Retinyl propionate is a form of vitamin A, more specifically an ester of retinoic acid. While retinoic acid is classified as a drug active that can only be used in prescription skincare treatments, retinyl propionate is a gentler yet highly effective ingredient used in cosmetic skincare products."
This doesn't mean you should be worried about the products' stability, though. While Dr. Neuser confirms that heat, oxygen, or UV light can make retinol and retinoid products degrade (i.e. lose efficacy), Olay met this beauty problem head on.
"For the Olay Retinol24 formulas, we have created unique oil-in-water emulsions in which the retinol is encapsulated inside micro-droplets of an oil blend, which are surrounded by the water-based phase. In fact — retinol and retinyl propionate are bright yellow in their purest form — the Olay Retinol24 products are bright white, demonstrating that the retinols are literally hidden away inside the product formulas," Dr. Neuser explains. "Because the formulas are inherently very stable, the products don't rely on special packaging to protect them."
Affordable, effective retinol treatments, for under $30? Yes, please. To shop the entire Olay Regenerist Retinol24 Night Collection, click over to Olay's website, or just continue scrolling down.