NYX Professional Makeup Finally Launched A New Brow Product & It's So Easy To Use
Grosescu Alberto Mihai/Shutterstock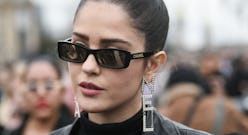 Before NYX Professional Makeup's Tame & Frame pomade came into my life, my brows were bleak. They're thick, fast-growing, and rebellious (but also inexplicably sparse in spots, because why not). I was on the verge of growing out my bangs to cover them up forever when I grabbed the brand's $7.50 pomade on a whim. And of course, one of the cheapest products I'd ever tried worked like a charm. That's what makes me so excited about NYX Professional Makeup's new Fill & Fluff Eyebrow Pomade Pencil; not only is it the brand's first brow-related product launch in two years, the new pencil only costs $11.
It also makes buying new brow brushes for pomades (which I personally go through quicker than any other brush I own) a thing of the past. The pencil has a retractable, teardrop-shaped pomade bullet, ideal for drawing on fine hairs, framing runaway brows, or shading in any spaces you need filled — and early reviews already make it seem like it's another win from the brand. It's important to note that the new formula is different than the Tame & Frame pomade's, though: the Fill & Fluff pencil's pomade bullet was formulated specifically to help create a more natural, "boy brow" look.
That goal is apparent from the pencil itself. Instead of the traditional spoolie brush shoppers have come to expect from a dual-ended brow pencil, NYX threw on a micro paddle brush. While it may take a little getting used to, you can actually use the paddle brush to blend the product out and fluff eyebrow hairs into place — achieving that perfectly bushy brow. No wonder NYX has dubbed this pencil the "boyfriend jean of the eyebrow world".
Better yet, the new pencil's shade range expands upon one of the reasons I fell in love with the Tame & Frame pomade. I could never find a not-too-cakey, not-too-dark reddish brown pomade that worked with my natural brow color; I'm no brow expert, and the thicker pomades highlighted every mistake I made. But NYX's pomade was light, easy-to-use, and came in the shade "Chocolate", a perfect warm-toned brown for brunettes (and blondes with dark brows) who don't have ash-toned hair.
However, the Fill & Fluff pencil has three more shades than the Tame & Frame pomade; the new pencil even includes the shade "Auburn", a color that looks like it could be a holy grail shade for true redheads. The new shade range has won points with online reviewers, too — the word "perfect" is used by fans more than once on NYX's website.
Is all of this enough to make me — and other NYX fans — ditch their old brow products forever in favor of the new pencil? For $11, I may as well try it out. And you should, too; keep scrolling down to shop the new Fill & Fluff pencil.