The Unexpected Stone This New Jewelry Designer Wants You To Wear
Celine d'Aoust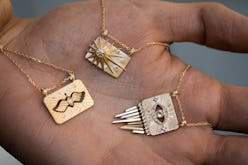 One of the benefits of Instagram is the ways in which it has allowed many small brands to connect directly with their customers and gain a wider audience than ever before. But that said, there's still something intimate and special about popping into a small boutique and discovering a new designer for the first time. That's exactly my experience when I first came across the beautiful, non-traditional jewelry of Belgian designer Celine d'Aoust at Esquelto, a teeny-tiny shop in Oakland, California.
What first attracted me to d'Aoust's work was that it was both delicate and raw, a combination that might seem counterintuitive at first. Instead of using precious and semi-precious stones that are polished to perfection, d'Aoust leaves inclusions (slight imperfections or bits of material in the stone). "I keep inclusions in my pieces because I hold a deep respect for the historical relevance of a stone," she tells TZR. "These stones develop over many millennia. The inclusions of different colors and shapes have a profound significance which is lost in a completely translucent or perfectly cut stone. By honoring its 'imperfections' I show the stone's true beauty and nature."
d'Aoust first launched the line in 2009, but explains, "I was always surrounded by stones during my childhood. My mother talked about each stone's virtues, putting some in my pockets when I traveled." She adds that she began first working with old fabrics and Tagua (a nut that mimics ivory) from Brazil, before branching into silver and gold. "I had my first child when I was 20. I started evening courses in fashion design while raising my kid during the day." Her initial studies eventually led her to the study of goldsmithing at the Institut des Arts et Métiers in Brussels, and so followed a fine jewelry line, with prices ranging from the mid hundreds to a few thousand dollars.
Today, it seems that d'Aoust is hitting on a number of major trends within the jewelry industry: unusual stones and fabrications, along with attention to the symbolic energies or healing qualities of certain gems or metals. But, when the designer first launched her brand a decade ago, she explains that many of these ideas weren't exactly welcomed by buyers. "When we started we were interested in stones that told different stories and were unique," she says. "[But, other's] interest in these incredible stones was very low at that time."
The initial hesitation eventually faded and d'Aoust notes that both consumers and shops that carry the brand are more open to unusual designs, styling them in ways that are true to each wearer. "American customers are trailblazers of the upcoming trends in jewelry," she explains, noting that the U.S. market has been particularly big for her. "[They] are more open to mix and combine varying styles, wearing clunky pieces with finer ones or vintages pieces with new ones. I love the way they're able to layer."
If there's one thing that has become a signature of d'Aoust's line, it's not a single ring or necklace, but her use of one specific stone: watermelon tourmaline. The stone's green, clear, and pink hues resemble a slice of watermelon, and the stone is thought to have healing energy, something d'Aoust considers with all of the materials she includes. "Throughout the years, my line has honored the power of [each stone's] symbols, drawing on my creative perspective as well as inspiration from many cultures." d'Aoust spends part of her time each year in India, where she both sources many of the gemstones used and also works with artisans to produce her pieces, all of which are made entirely by hand.
Buying fine jewelry, whether for yourself or for someone special, can be an intimidating task (an investment piece often takes a bit of pondering), but d'Aoust recommends not overthinking it when the time comes. "Your jewelry is a part of you," she explains. "Beloved pieces remind you of moments and people. They say that the stones picks you and not the opposite." So, whether you're plan is to pick out something special online, or you like the tactile experience of in person, try to trust your intuition and opt for designs or stones that speak to you. If the former is your ideal way to shop, then pick a few favorites from the brand below.