Stylist & Shop Owner Karin Bereson Starts Every Outfit With A Shoe
Courtesy of Mae Elvis Kaufman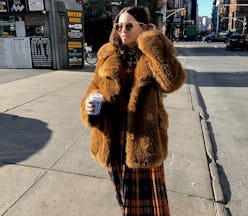 Karin Bereson's outfits always start with the shoes. Her motto that "shoes dictate everything" makes sense when you consider that her clothing boutique, No.6, has garnered international acclaim for its handmade, domestically-produced clog collection. Bereson started No.6 in 2005, after spending the 15 years prior as a stylist. The shop began small, mostly carrying vintage and European designers, but has since expanded to producing its own shoes, dresses, denim, accessories, and more.
Bereson's personal style involves a lot of menswear and has an acute focus on comfort (praise be!) without sacrificing fashion. She believes fashion should be wearable — and perhaps take itself a little less seriously.
What piece instantly makes you feel more confident and why?
A great piece of outerwear always makes me feel the strongest. I have a caramel long-hair, faux fur pea coat that I can put on over anything, from pajamas to black tie, and it makes me feel fashion-invincible.
My style has definitely evolved into super casual but with intention.
How do you define your personal style?
Hmm, I am usually wearing something super menswear-y, almost always oversized and generally mismatched. I usually wind up adding one thing that definitely does not go with the rest of the outfit.
How has your style played a role in your career? Has it opened or closed doors for you? Has it evolved as a result?
Being a stylist for so many years, then opening the store, I have had to convey some sort of message that I could stylistically offer a different spin on things — whether it was a styling job or helping a customer in the store, something had to convey taste. My style has definitely evolved into super casual but with intention.
I would never pass the Marie Kondo test in terms of my coats and shoes.
What is your daily uniform? How has it changed? Stayed the same? Why is it your uniform?
I wouldn't say I have a daily uniform but rather a few different uniforms, most of which involve some type of menswear. I often throw classic menswear shirts under everything and coveralls, overalls and sweatshirts over everything else. Whatever I am wearing is almost always in the casual world rather than trendy or fussy. Although, that being said, I do have quite the vintage coverall collection and, of course, have way too many clog boots to count at this point.
What style item do you covet the most? A category, a designer, a specific item? Or what item do you always gravitate toward? What item do you own multiple versions of? Why?
Sadly, I could buy a new coat or jacket every day, which is a huge problem when you live in a tiny New York apartment. It is the make-or-break element of what you are wearing along with your footwear. Unfortunately, I have as much of an addiction to footwear as outerwear. It is funny to think of all the shoes I have bought for their sheer beauty and my need to just own them, whether I wear them or not. I would never pass the Marie Kondo test in terms of my coats and shoes.
If money were no object, what is one outrageous luxury item you would invest in and why?
If money was no object, I would buy all of the Ashish sequined pieces I have lusted after over the years.
Can you recall an outfit you have worn that was iconic for you — either you wore it for a momentous occasion, or it signified a turning point in your life or style? What inspired it/how did it happen?
I am not sure if it was iconic, but I recently went to a disco-themed birthday party and it was so amazing to wear all of my over-the-top directional pieces — pieces that are usually too strong to wear often. I got a taste of what it must have been like back in the day, when the idea was to look like you did try hard, hair and makeup included, and to go out in an outfit when more was more and "bad taste" was all part of it.
When I put together an outfit, either for me or someone else, I always consider the shoes first.
What inspired you to supplement your beautifully curated store with your own designs? Was that always a goal, or did that desire emerge from having the store?
Having the store definitely inspired having a collection. One of the things that women always need in a pinch these days is a dress. Now that everyone is so casual, I see women constantly on the hunt for a dress for an event that is happening either that night or in the next few days after they go in their closet and nothing feels right at that moment.
When you put together an outfit, where do you start?
When I put together an outfit, either for me or someone else, I always consider the shoes first. A great outfit without the right shoe is no longer a great outfit, shoes dictate everything, from the styling side to the practical side. So many times, I know the shoes I need to wear with something won't work for the long hours of walking or standing coming up, so you then have to dress for the shoes you need to wear. Thank god sneakers are now perfectly acceptable with almost everything.
This interview has been edited and condensed for length and clarity.