The Ninja Blender With A 5-Star Rating Is Super On Sale At Target Right Now
Cultura/Shutterstock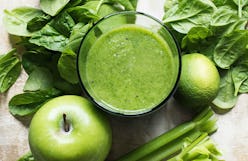 Drinking a tropical smoothie while you're staring at the foot of snow covering your car can feel like the only way to fight back at winter. Maybe you'll have to wake up 20 minutes early to scrape the ice from your windshield — but if you have a pineapple and spinach smoothie for breakfast beforehand, it's basically like you're at the beach, right? OK, there may be no way to trick your mind that it's warm outside currently, but there is a sale on Ninja blenders at Target you can shop without leaving your house. Take that, snow.
The Ninja Kitchen sale falls under the Target Well Chosen Event's wellness-inspired umbrella, which also includes discounts on yoga gear, a C9 Champion activewear sale, and buy one get one 30 percent off vitamins. Some of Ninja's top-rated blenders are featured, like the gigantic Ninja Professional 1200W Kitchen System set. On sale for $179.99 from $199.99, the fan favorite includes a 1200-watt motor base, a 72-ounce Total Crushing Pitcher, a 64-ounce food processor bowl, 24-ounce and 18-ounce Nutri Ninja cups, and other extra attachments like a dough hook and Pro Extractor blades.
Not to mention the plastic components are BPA-free and the blender's lids, jars, and blades are dishwasher-safe. The sheer fact that you can use the blender to whip up a green smoothie and then swap the blade out for a hook to make homemade chocolate chip cookies may explain why the system has a 5-star rating out of almost 500 reviews.
The Kitchen System's versatility wins it points for shoppers that need options, but may make it a no-go for apartment-dwellers without the space to store four blender attachments. If you only have room in your cabinets for something compact, the Nutri Ninja with FreshVac Technology Blender is utterly streamlined, on sale for $72.90 from $80.99, and comes with Ninja's FreshVac technology. Unveiled in 2018, Ninja's FreshVac pump is used before you blend ingredients to remove oxygen, the gas that affects fruits and vegetables' ability to retain vitamins and flavor. The FreshVac also keeps your blended snacks from separating, and promises that they'll stay fresh for up to eight hours after they're made.
Not sure if you need the entire Kitchen System, or something bigger than the Nutri Ninja's 24-ounce cup? Continue scrolling to shop seven different Ninja blenders on sale at Target.