The One Holiday-Party Makeup Tip To Remember, Courtesy Of Nina Dobrev's Makeup Artist
Emma McIntyre/Getty Images Entertainment/Getty Images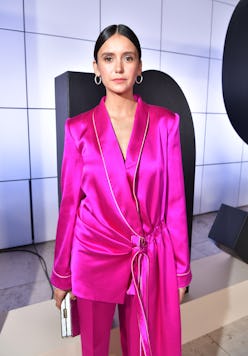 Naturally, when attending a Dior party, you may be tempted to wear the house, whether that be slipping into J'aDior slingbacks, or slinging a Dior Saddle Bag over your shoulder. It's understandable. Nina Dobrev's Dior Beauty look at the Guggenheim International Gala Pre-Party — a Nov. 13 soirée in New York made possible by Dior — took a different approach. Although the star did, in fact, wear a white Dior dress, her timeless makeup and expertly painted red lip showed off just how well the iconic house excels at beauty, too.
Better yet, the beauty look is surprisingly easy to recreate. Dior makeup artist Daniel Martin started by prepping the actor's skin with a new Dior Beauty serum and eye cream (which are coming soon); after that came the makeup. "Then I applied the Dior Forever Skin Glow #2W and Dior Forever Undercover Concealer #031 Sand to create the base," Martin said in a press email. "I set everything with the Diorskin Mineral Nude Matte #03 Medium and added dimension with the Dior Backstage Contour Palette #001 and Diorskin Mineral Nude Bronze #004 Warm Sunrise."
Martin then used the Diorshow Pump 'N' Brow in the shade "Dark Brown" on the actor's brows, and created the eye look by bringing together the Dior Backstage Eye Palette in "Amber Neutrals", Diorshow On Stage Liner in "Matte Black", and Diorshow Iconic mascara.
But after that, Martin passed the baton to Dobrev herself. "I always have my girls apply their own lipstick because they apply a pressure to the saturation I can't usually get with a brush. Afterwards I'll clean it up and strength the payoff with a brush," reads a quote from the artist's personal Instagram account — just in case you needed the perfect lipstick application tip for the upcoming holiday party season.
And before you ask: Yes, you can grab her exact lipstick, too. "For the final touch, I created a burgundy lip with the Rouge Dior Ultra Care Liquid #975 Paradise," Martin explained. To snag that color — and the rest of Dobrev's routine — continue scrolling.