The 5 Trends You'll See On Your Feed This Week — Mark Our Words
Shutterstock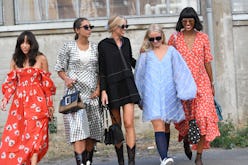 Blame Instagram. The official start of New York Fashion Week is still 24 hours away, but I'm already busy not only planning my own outfits, but figuring out what the fashion industry at large is going to wear. On social media, trend spotting is like learning an unfamiliar word: Once a street style trend is on your radar, suddenly, you see it everywhere. (There's an official name for this hear-or-see-it-once, see-it-suddenly-everywhere experience, by the way: the Baader-Meinhoff Phenomenon.) So, before a single editor, buyer, celebrity, or influencer steps even one foot into Spring Studios — the TriBeCa hub housing most of this season's shows — I've made a few preliminary trend predictions based on my own feed.
Standing outside Tibi or Nanushka, you'll see bloggers and editors like Aimee Song and Jan Quammie repurposing the same pieces from the runway — like a see-through Miu Miu raincoat or the recently relaunched Dior saddlebag — and making them wearable in real life.
What works on the runway (or even in a magazine editorial) doesn't always stack up when you try it at home — looking at you, Balenciaga, and those 7-layer parkas — which is where street style really comes in handy. Often, the outfits captured in street style photos are an enhanced version of an editor or influencer's everyday style. With the ability to borrow from major designers, outfits represent their personal style, but on high-fashion steroids.
Whether you're curious to know the next It-bag or you're looking to stock up on fall staples, these five must-tries serve as a great starting point. But, just a warning before you keep reading: Once you're clued into the five key trends to know, there's no unseeing them. But hey, that knowledge is just a sacrifice you'll have to make.
Beaded Bags
This season's take on the statement handbag looks like it might be found nestled in the back of your grandma's closet. Dainty beaded bags are popping up in every shape and color (not to mention fun patterns, too) on Instagram. Expect to see the trend bleed into fashion week.
Non-Preppy Plaid
Plaid has a country club reputation, but for Fashion Week, expect a bit of a remix. Unconventional plaids in unexpected color combinations (á la Tibi, Ganni, and even Burberry) are going to be a major trend. So break out all your tartan at once for a street style-approved take.
Head-to-Toe Neon
Usually come fall, trendsetters ditch high-saturation hues for softer jewel tones and muted neutrals — not so this year. Neon is the color trend poised to take over. Whether it's wearing one color head-to-toe, or mixing and matching vibrant oranges, pinks, and greens, I'm predicting no shortage of color on the streets of SoHo.
Pride and Prejudice Dresses
Prairie dresses were an intense topic of discussion this summer, and while that didn't stop trendsetters from wearing them with abandon, expect a small shift for fall. In addition to Oregon Trail-worthy styles, expect to see romantic maxi dresses with a more Victorian bent. If you're not sure whether it's a photo in a scene from Pride and Prejudice or a shot from 2018, you aren't alone.
Sport Joggers
Don't call it athleisure. The new wave of sport-meets-streetwear is here and there's nothing leisurely about it. For former soccer players, or anyone who navigated their teenage years during the '90s, nylon joggers will be a familiar sight. Expect NYFW show-goers to style them with more delicate pieces like heels and romantic tops to balance out their recess association.