The Luxe New Swimwear Brand You Should Know (Way Before Everyone Else)
Tabacaru Swim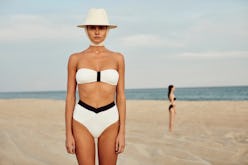 "I always knew that I wanted to have my own brand, but I wasn't sure exactly which category I wanted to go into," begins Stefana Tabacaru, the creative director and founder of the new swimwear brand Tabacaru Swim. "I had been putting a lot of thought into it, and one day my father said to me, 'You know Stefana, you should do what you know best, and what do you know better than lounging around in a glamorous swimsuit?' That was the start of Tabacaru Swim."
But the path towards launching a luxury swimwear brand of her own was paved in industry experience. Before opening up shop online July 4, Tabacaru worked at British Vogue, Harper's Bazaar UK, Moda Operandi, and Fivestory — and that's all before her time on the Emilia Wickstead team. "I have always worked for feminine brands. Brands built by, and run by, strong women. Women with true vision, incomparable work ethic, and the determination to create successful companies that every fashion girl dreamed of working for," Tabacaru notes. "I love that these women created identities for their brands and when you worked for them, and even after, you were a part of that identity. Voguettes, Modettes, Fivestory girls, EW girls. It is a thing and gives you a sense of being a part of something, belonging, and growing together."
So, who is the Tabacaru Swim shopper? It may be a fashion lover obsessed with all things Old Hollywood — an inspiration coursing through the silhouettes of the first collection. Or, it could be someone attracted to the black-and-white colorways dappling the pieces; a palette Tabacaru surprised herself with, as she adds "in my own life and style I am not really a minimalist."
Most fitting, though, is the fact that the inaugural release reflects Tabacaru herself. "I am very much the women that I design for," Tabacaru explains. "The Catherine in black is my current self as I launch my brand. It is classic but cool, sexy but effortless, and I have been wearing it as a bodysuit to every Tabacaru Swim meeting and appointment because you can't mess with a girl in black."
Versatility is key, too, in luxury swimwear. Tabacaru Swim's prices range from $265 to $285, and being able to wear the one-pieces and bikinis outside of the beach creates more accessibility. "Many of the suits can be worn as bodysuits with shorts, skirts, and jeans as it was important for me for my customer to be able to have a swimsuit that could take them through their day and be a good addition to their closet," Tabacaru notes.
For the time being — and before everyone else catches wind of the brand — you can shop Tabacaru Swim on tabacaruswim.com. However, soon the cat will be out of the bag, as Tabacaru Swim will be landing at Intermix mid-November for Resort season.
Until then, get your hands on Tabacaru Swim's chic swimwear by following the links below.