Target Just Got A Brand-New (& Very Insta-Worthy) Skincare Brand & It's All Under $20
Courtesy of Versed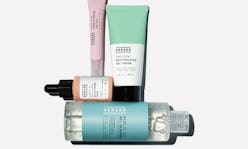 In 2019, skincare brands wear many hats. They're skin scientists, first and foremost; new formulas need to be good, and if they're not, the internet can point it out in a matter of days. The packaging doesn't necessarily need to be Instagrammable — but it's a plus, and populating the #shelfie tag is priceless. Then there's the X factor: Some hard-to-describe blend of company philosophy, consumer trust, and branding that can garner a cult following out of thin air. When the new skincare brand Versed launched May 19 exclusively at Target, you could tell that it had carefully considered each factor — and then some.
And for beauty fans following along at home, it's exciting to see; the brand hails from Offspring Beauty, a subsidiary of the fashion and lifestyle brand Who What Wear. "After years of consumer research, we started to notice a gap in the beauty market," reads a quote by Katherine Power, CEO and founder of Versed, on Target's corporate blog. "Shoppers were looking for a brand that was deeply rooted in research and was comprised of clean products that not only work great, but are easy to use and make them feel good. We've checked all three boxes with proven, powerful ingredients, simple icons, and an online quiz that directs users to products that address their specific skin concerns. And because we're so confident in the results, our launch campaign is free of airbrushed skin and paid influencers."
Versed didn't just launch with one or two solid items, too — the brand established itself with an inaugural drop of 19 diverse products. Diverse being the key word there: Versed's first collection includes head-turning products like its Found the Light Powder With Vitamin C — a talc-free powdered vitamin you can pepper into moisturizers — amongst the more typical face-brightening serums and clay face masks. And no matter how unique a product is, each one retails for under $20.
To make shopping for your ideal skin routine that much easier, Versed broke its product line up into four collections: dullness, dryness, aging skin, and problem skin. There are the occasional product crossovers between the collections — apparently, any skin type can benefit from the Versed Silk Slip Conditioning Lip Oil, a lip balm alternative that promises silky-smooth lips for only $9.99. But, for the most part, the collections serve a solid purpose in compartmentalizing the skin care, and educating consumers on which products to buy.
As you know, it's no secret that skin care is booming right now. But a quote from Christina Hennington — Target's senior vice president, general merchandise manager, essentials, beauty, hardlines, and services — illuminates why the retailer chose to step further into the skincare industry. "We know our guests are looking for options when it comes to building a skincare routine that's right for them. The Versed collection offers trend-forward products that are affordable, made with cleaner ingredients, and above all, are effective," Hennington said. "Adding Versed to our assortment not only gives guests first access to a new beauty brand, but it's another way we're continuing to differentiate our beauty assortment and reinforce Target as the ultimate destination for all beauty and skincare needs."
But Target won't be the only place you can get your hands on Versed's products. The brand will land at Forever 21's beauty store Riley Rose on June 6, and on its very own website this upcoming October. Til then, shop some of the most exciting products from this first drop — exclusively at Target — by scrolling down.