Meet Muri Lelu, A New Cannabis Skincare Brand Donating To Restorative Justice
Muri Lelu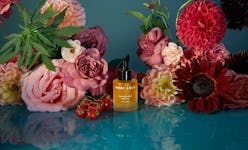 Chic, floral, clean. These principles are universal truths in the luxury cannabis industry, a market that the new skincare brand Muri Lelu stepped into once it launched this June. And the brand-new line's inaugural product certainly fits the bill: Muri Lelu's Mauvaise Herbe Indica Oil mixes together 100 milligrams of full-spectrum CBD with active botanicals, essential oils, and a French name, bottling it up for $170 per ounce. (And leaving out sulfates, phthalates, and silicones from the formula.) Nevertheless, Muri Lelu has already stood out in the space, even though it's not yet a month old — the cannabis brand has made a point to align itself with the restorative justice movement.
More specifically, the fledgling brand has chosen to donate a portion of its proceeds to organizations like the Last Prisoner Project, a nonprofit coalition dedicated to criminal justice reform for those imprisoned for cannabis-related charges. "Can we talk about the realities of cannabis?" the brand shared on an Instagram post spotlighting the initiative, which donated 100 percent of profits to the organization between June 19 and June 22. "As a luxury beauty brand that embraces cannabis culture we are committed to promoting restorative justice for those affected by cannabis prohibition. We intend to create a space for action, education and meaningful dialogue."
Beyond using its newly established platform to advocate for change, Muri Lelu's own formula establishes a place for itself within the busy skincare industry. The Mauvaise Herbe Indica Oil relies on terpenes, a beneficial compound found in plants — including cannabis. The formula uses these ingredients, supplied by various plant-derived oils, to nourish, balance, and moisturize skin; all you have to do is apply a layer of the oil onto clean skin before you hit the hay. It goes without saying that the minimalist packaging will score points with prestige skincare aficionados, as well.
For the time being, you can find the launch product and read more about the brand on murilelu.com. Below, a link to pick up your own bottle of Mauvaise Herbe Indica Oil.
We only include products that have been independently selected by The Zoe Report's editorial team. However, we may receive a portion of sales if you purchase a product through a link in this article.
Readers should note that laws governing cannabis, hemp and CBD are evolving, as is information about the efficacy and safety of those substances. As such, the information contained in this post should not be construed as legal or medical advice. Always consult your physician prior to trying any substance or supplement.