Meet The 2 Former Reformation Employees Creating Sassy, Sustainable Jewelry Out Of Vintage
Garbage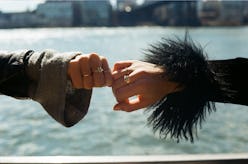 "Garbage started as a hypothetical idea we discussed over a bottle of wine," Elise Shatz tells The Zoe Report over email. She's one half of the duo behind the new jewelry brand Garbage, that's slowly — but surely — begun dominating Instagram by way of cherub-adorned rings and occasionally NSFW charms. "And over the course of a few months, it grew into a collection of styles we saw as an extension of our own personalities — humorous and a little dark, but also sweet and (most importantly) accessible."
It's been a fast year for the new brand, too, from being conceptualized in Jan., to opening an online store in Mar., to being modeled by musician Maggie Rogers in Teen Vogue this June. "The name itself wasn't meant to stick — it started as a joke until we realized it felt like a sort of sarcastic commentary on the way people consume goods in today's market," Shatz explains. "So, we kept Garbage and vowed to create product that's the complete opposite."
The plan? "We work exclusively with gold and silver because anything else tarnishes over time, which makes it more likely to end up in a landfill forever," Shatz says. Before starting the brand, Shatz — along with fellow co-founder Shelby Davis — received a lesson in sustainability from none other than the powerhouse itself: Reformation. "I started working there when I moved to New York [around] five years ago (it started as an internship and eventually moved into management). Shelby started two and a half years ago as a store manager, and we just clicked right away," she adds.
"Ethical and sustainable production is a shared passion we took from our involvement with Reformation, and we did a lot of research when it came to selecting vendors — our caster uses all recycled metals, and anyone who has a hand in creating our product is treated like family," Shatz says. The production of Garbage's 10-karat gold cowboy hats and shell-shaped stud earrings is done locally, right in New York City's famed Diamond District.
The design concepts are streamlined, too: "Right now, most things are cast from vintage, but we are starting to integrate in-house designs. Those take a while to develop, but should be coming out in the coming weeks," Shatz says.
Nevertheless, inspiration for each piece comes from the environment around them — Shatz names the Lower East Side, where both her and Davis live, as a major influence. "It gives off a really artistic, youthful vibe while also maintaining a rich history that's inhabited the neighborhood for decades. I think Garbage was born out of the sheer weirdness that comes with living in a true microcosm of different cultures," she says.
Before you ask: No, purchasing Garbage's sustainable, vintage-inspired pieces won't have you re-budgeting your next month. "It was really important for us to make items our friends could afford at varying price points," Shatz notes. "We keep our margins low by dealing directly with our vendors and not selling through wholesalers (although we're open to that in the future). Most of our stuff is in the $100 range or less."
Still, Garbage wants to be a well-loved part of your jewelry collection for decades — because even those cowboy hat charms should be seen as an investment. "Accessibility is important for our brand's concept because we strive to make jewelry that resonates with our audience, since it'll last forever and will (hopefully) be passed down to the next generation," Shatz says. "Fine jewelry can sometimes feel really serious and exclusive, so we like to lighten the mood with humor, weird charms, and sarcastic captions."
Shop Garbage's Jewelry Below