This Luxe New Haircare Brand Uses Natural Ingredients To Achieve Professional Results (& It's Actually Affordable)
Courtesy of Together Beauty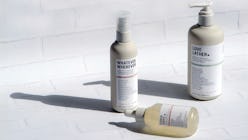 Though the haircare industry is changing, high-quality results and natural ingredients still don't always walk hand in hand. Anyone interested in cleaner beauty has probably trial run a few duds, too — or paid extra for natural products that work for them. So, when the new haircare brand Together Beauty landed exclusively at Sephora on July 12, it may've instantly caught your eye; designed by the stylist Sam Brocato — whose name you may recognize from the chic Sam Brocato Salon in SoHo — the brand boasts professional-approved products featuring high percentages of natural ingredients. And, even more tempting, 14 of the brand's 15 new haircare products retail for under $30 apiece.
"We are thrilled to welcome Together Beauty to our clean beauty category this month," reads a quote from Sephora's Executive Vice President and Chief Merchandising Officer, Artemis Patrick, in a press email. "Together Beauty not only provides an uncomplicated approach to haircare, but its high-performance, non-toxic formulas are change-makers in the industry. With this launch, we are excited to continue to expand the haircare category further by providing our clients with even more clean and effective products."
And that uncomplicated approach may be a breath of fresh air for you: The brand's straightforward product line allows you to decide how high or low maintenance you want your routine to be. For someone only interested in clean shampoos and conditioners, there are eight to choose from — including Together Beauty's $29 Wash & Co Cleansing Conditioner and $24 Purple Reign Shampoo. From there, you can layer the brand's masks, styling products, or hair oil in your routine. Or not, too; each product from Together Beauty's line was crafted to work alone or in tandem.
Most importantly, the brand is forthright with just how natural each ingredient list is. While the entire lineup is endorsed by Clean at Sephora, each product description includes a note on its natural ingredient percentages. For example, the brand's $29 Love Lather Moisture Shampoo is 98-percent natural, whereas the $45 Flower Supply Hair Oil — the one over-$30 product — features 100-percent natural ingredients.
For the time being, the only place to find Together Beauty is at Sephora; though the Sam Brocato Salon website notes you'll be able to shop Together Beauty on SamBrocatoSalon.com and StudioB.nyc starting Aug. 1. Though with the new brand already on Sephora's website — and at 185 stores nationwide — you may not need to wait that long. Below, eight new Together Beauty products to explore first.