This New Beauty Brand Aims To Make The Only Moisturizers You Need — & It's Already Celeb Approved
Courtesy of THE ROUTE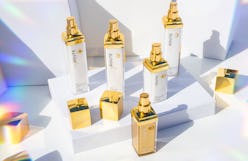 Whether you're ready for the change in temperatures or not, fall weather is already settling in for the season. And in the same way you might approach your seasonal wardrobes and home décor, your skincare routine will probably shift with the impending weather. Though harsh winter winds are still a couple of months away, fall's crisp air and cool breeze is only a precursor for what's to come. In which case, stocking up on a full arsenal of moisturizers is never a bad idea. And to kick off on a high note, new beauty brand THE ROUTE has the perfect options for your everyday needs and more.
Founded by nurse practitioner Nancy Pellegrino and beauty veteran Courtney Baber, THE ROUTE started from their close friendship — which began over the shared love of makeup and skin care. With their combined 50 years of experience in beauty, they set out to create a line of medical-grade products that address the causes of aging using as few products as possible. "We wanted to create efficacious products that were scientifically sound and delivered the best, most potent ingredients from nature and science, exactly when our skin needed them most," the duo tells The Zoe Report.
THE ROUTE launched with five products as a way to streamline the daily skincare routine. "Our lives are full. Neither of us wanted to indulge in a 12-step skincare program, nor do we believe it's in our skin's best interest," they share. "So we sought to create just a few products that could deliver everything the skin needs in abundance."
The beauty brand initially started with two $90 moisturizers, THE EVERYTHING DAY and THE EVERYTHING NIGHT, which both include ingredients to provide hydration, brighten the skin, and more. The luxury label also made an $85 retinoid serum, THE GOLDEN RULE, which includes a truffle extract to help soothe skin.
To complement these three basic products, THE ROUTE has also created two specialty items: THE PARTY PEEL, a gentle $65 peel, and THE GIRLFRIEND, a $50 hydrating skin primer. According to Pellegrino and Baber, THE PARTY PEEL was made to provide simple, safe, and effective exfoliation in the comfort of your home. THE GIRLFRIEND was developed to soothe the skin immediately after using THE PARTY PEEL.
"After a chemical peel, even one as gentle as THE PARTY PEEL, the skin needs to be brought back to its normal hydrated, calm state, and THE GIRLFRIEND does just that," they explain. However, it can also be used as a moisturizing primer for makeup.
Ready to give your skin the ultimate treatment? Scroll down to shop THE ROUTE's products below.
Editor's note: This article has been updated from its original version.