Net-A-Porter Has The Ultra-Luxe Gift Every Beauty Lover Wants
Net-A-Porter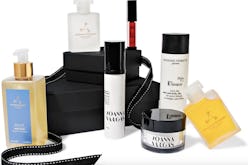 Just in time for the holiday shopping season, Net-A-Porter has launched its Fantasy Gifts, which provide the ultimate luxury gift experience that any fashion and beauty lover would be happy to receive. If you're the type of woman who loves to be ahead of the curve when it comes to the latest trends while also receiving A-list treatment, or let's be real, if you're overdue for a major "treat yourself" moment, this will be exactly what you're looking for.
Ranging from beauty and wellness to fine jewelry and fashion, the Fantasy Gifts are limited-edition packages that have been specially curated designed to give you the finest of the retailer's products, services, and once-in-a-lifetime experiences with the best in the industry. A red carpet-level facial with hair and makeup or a year's worth of shoes? Those are gifts anyone can get behind.
For those who consider themselves to be beauty-obsessed, the Ultimate Net-A-Porter Beauty Experience will feel like a dream. For $9,000, you can spend a full day of pampering in New York, complete with a Joanna Vargas facial (the name behind many a treatment to the stars), a massage and lunch at the five-star Mandarin Oriental, a hair cut with Rossano Ferreti, and makeup with the founder of Surratt Beauty, to name a few of the offerings.
If you're looking to kick off 2019 on a high note, why not go for the Ultimate Wellness Retreat? This $24,000 package will help you set the tone of the year in a relaxing getaway experience. This package will take you and a guest to a villa in Abu Dhabi, fitting you with the latest sportswear pieces from LNDR. You'll have three and a half hours of pampering at the spa along with three yoga and personal training sessions, along with shakes and a meal provided by Bodyism — talk about starting the new year right.
Of course, if fashion and accessories are more your thing, you can't go wrong with the brand's monthly shoe subscription for $13,000, or a bag-of-the-month subscription for $20,000. With these subscriptions, you'll have the assistance of one of Net-A-Porter's personal shoppers to choose a product each month. Need something to wear with your accessories? The Ultimate Party Wardrobe package, $90,500 will provide you with a personal shopper to help you curate the best party looks to wear from now until New Year's Eve. Trust us, you'll be the best-dressed woman in the room.
As you look through each gift, make sure you click on the "View product details" link on the lower right-hand corner of the landing page — it'll take you right to the description page for the Fantasy Gift package as well as tell you how to purchase the gift if you're ready to indulge.
Whether you're shopping for yourself, a loved one, or looking to drop a major hint someone's way, it'll be hard to top a gift like this during the holiday season. Keep scrolling to see all of the Fantasy Gifts Net-A-Porter has to offer.