NEST Fragrances Brought Back Its 3-Wick Candles Again & You'll Want All 4 Best-Selling Scents In Your Home
NEST Fragrances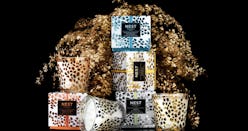 Small but mighty, a candle has the power to transform a space with its scent. Whether it's a flowery and fresh scent or a warm and spicy fragrance, the lighting of a candle's wick can give a room a completely different vibe. And, if you're looking to add a new aroma to give your own home a new feel for the upcoming season, look no further than the NEST Fragrances Special Edition 3-Wick Candles. That's right, they're back — so if you missed out on snagging one last year, now's the time to get shopping.
Those who count themselves as fans of NEST will remember that for the brand's 10th anniversary in 2018, it unveiled the Special Edition 3-Wick Candles in three of its best-selling home fragrances — Bamboo, Grapefruit, and Moroccan Amber. Given the stylish candles were so popular the first time around, the brand has brought them back in the beloved trio of scents as well as in another best-selling fragrance: Ocean Mist & Sea Salt.
Ringing in for $72 a piece, the luxe candles sit in beautifully designed vessels that each feature a maidenhair fern print in a different color. And, no matter which scent you select, any of these chic candles will act as an eye-catching accent piece on your coffee table, nightstand, or counter top.
When it comes to the fragrances, if you're not ready to part with summer, you'll likely first gravitate toward the refreshing smell of Ocean Mist & Sea Salt. Bringing together the aroma of the ocean mist with notes of sea salt, white tea, and coconut, this candle is the perfect way to let the beachy vibes live on into fall — that is, in your home at least.
Of course, if you tend to enjoy a citrusy scent you'll find Grapefruit to your liking. The cheerful fragrance blends pink pomelo grapefruit with lily of the valley and coriander blossom to create a fresh fragrance that'll wake up any room. Meanwhile, the Bamboo candle will breathe new life into your space with its combination of a flowering bamboo fragrance with white florals, sparkling citrus, and fresh green accords.
As for the cooler months ahead? You may find the warm, exotic scent of Moroccan Amber is just what your space is missing. The rich fragrance mingles Moroccan amber with sweet patchouli, heliotrope, and bergamot, and tops it off with a dose of eucalyptus.
Ready to scoop up your new candle? Continue on to see and shop the four fragrances below before they're gone.