Williams Sonoma Is Having A Huge Sale On These Expensive Nespresso Machines
Williams Sonoma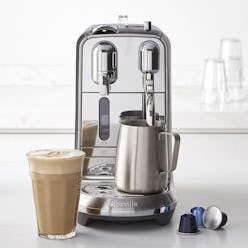 The cooler weather of this season may have you wanting to curl up on the sofa with a good book and a warm beverage — there's nothing quite like a hot cup of coffee to keep the chill at bay on a cold Sunday morning. However, leaving your warm home to get the latte you're craving isn't so ideal. As luck would have it, though, Williams Sonoma has major markdowns on coffee makers with a Nespresso machine sale that will have you playing barista in your own kitchen so you don't have to leave home for the perfect cup of Joe.
Until Oct. 30, you can shop top Nespresso coffee makers and machines on Williams Sonoma for up to 50 percent off. The sale is filled with all the styles you have been eyeing, but haven't wanted to commit to just yet. Now is the time to add one of these sleek machines to your counter, as prices are significantly lower during the sale.
For all you caffeine lovers, the popular Nespresso Vertuo Coffee Maker and Espresso Machine is on sale for $174.95, down from $249.95, and includes a milk frother. This model will let you whip up all the American style coffees and authentic Italian espressos your heart desires. The automatic machine works exclusively with the brand's VertuoLine capsules and includes 12 total (eight coffee and four espresso) to get you started.
You'll be able to create café quality drinks at home with the addition of the Aeroccino Milk Frother, which comes with this style. The frother will whip and steam milk to make the perfect cappuccinos, lattes, and macchiatos with just the touch of a button.
The dream of having a hot espresso beverage ready for you as you head out the door can become a reality. Originally, $799.95 the Nespresso De'Longhi Lattissima Pro Espresso Machine is only $419.95 during the sale. All you have to do is pop in a Nespresso coffee capsule as well as select the espresso beverage you want, and the machine will do the rest.
If the lack of space and storage in your kitchen is holding you back from making a purchase, go for a smaller style, such as the Nespresso Pixie Espresso Machine by De'Longhi. Initially priced at $229.95, this stylish single-cup machine is on sale for $160.95. Its compact design makes it ideal for kitchens with little counter space, and when it's not in use, it can easily be stored away.
Impress yourself and your friends by serving cups of home-brewed delicious coffee and espresso this season. The sale is only happening while supplies last, so start shopping the below Nespresso styles while they're still marked down (and in stock).