This J-Beauty Brand Just Launched Its Own Scalp Scrub — But With An Unexpected Ingredient
Courtesy of NatureLab Tokyo‎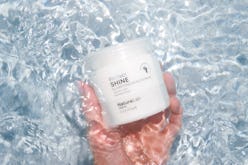 Whether you carefully monitor your gut health or just swig kefir every once in a while, you're probably well aware of the connection between probiotics and your skin. You may've even snuck the buzzy ingredient into your own routine — via any number of serums or moisturizers boasting healthy bacteria. Though it's steadily climbed in popularity, NatureLab Tokyo's new Shine Clarifying Scalp Scrub takes probiotics to a frontier not yet conquered: hair.
Available on the brand's website starting July 9, the $16 scrub also relies on an unexpected (yet probiotic-packed) key ingredient. "The scalp scrub is made with sake water, which is a natural source of probiotics. What that means to you is the pH levels of your scalp will be balanced and restored," Andrew Fitzsimons, a celebrity hairstylist and NatureLab Tokyo brand ambassador, explains to The Zoe Report over email — adding that "healthy hair starts at the scalp."
It's safe to say that scalp scrubs — and scalp health products in general — are having a moment in 2019. However, as with any other cleansing product, moderation is key. "The function of the scalp scrub isn't to conventionally wash your hair as you should still be using your shampoo every couple of days or whatever works for you and your hair type," Fitzsimons says. "Just like you don't over-exfoliate your skin, you want to make sure you are using a great shampoo and conditioner to deal with the oil and day-to-day maintenance of your hair, then use the scrub once a week to erase the buildup and unlock the shine and life in your hair!"
So, think of the product as a skincare-hair hybrid; which may be easier once you consider the sugar scrub is also spiked with beloved skincare ingredients like hyaluronic acid and grape stem cells. "I think a lot of people understand exfoliation when it comes to skin, but less for hair care. However we have to remember the scalp is part of the largest organ on the body (skin), which needs to be exfoliated and cleansed just like the rest of your body," notes Fitzsimons. "Imagine how soft and smooth your skin is after exfoliation, at NatureLab Tokyo we wanted to make sure you experienced the best treatment for your scalp as well — it deserves it!"
Ahead, NatureLab Tokyo's new Shine Clarifying Scalp Scrub, now available on NatureLab.com.