Influencer Natalie Lim Suarez's Second Collection Is A Glamorous New Take On The Athleisure Trend
Dylana Suarez for INSPR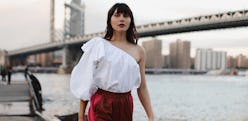 After launching her first collection in September, the woman behind Natalie Off Duty is back at it again — but this time, it's all about glam athleisure. Natalie Lim Suarez's OFF DUTY Collection is Suarez's second with INSPR (pronounced "inspire") and will be available exclusively at Macy's starting Oct. 15.
Ranging from $56 to $90, the 16-piece collection has all the athletic-inspired pieces you love from sizes 0 to 18, but with a glamorous twist. Ruffled tracksuits, satin sets, and statement sleeves make for versatile pieces that can be worn from work-to-weekend.
"I wanted the OFF DUTY collection to feel like it was pieces from my wardrobe. It's a reminder of my individuality," said Suarez in a press release from the brand. "Each piece has both a masculine and feminine side. It's easy and casual yet can immediately feel elegant with a pair of heels."
Similar to her last collection, Suarez infused many bold colors into the new line. This time, she incorporated pops of orange and a bright pink, with the latter featured as stripe on a blue satin tuxedo pant that takes athletic elements and fuses them with an elegant fabric and silhouette. Scoop up the luxe wide-leg style for 64.90 along with the matching oversized top for $56.90 to have an all-occasion outfit ready and waiting.
The OFF DUTY Collection is available at Macys.com and will be available inside The Market @ Macy's in select locations beginning Oct. 15. This is a limited-edition collection, so don't wait on shopping the pieces below.