NARS' Latest Collection Features 6 New Cheek Colors — But They Won't Be Around Long
NARS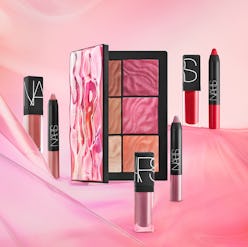 Valentine's Day only happens once a year. But, at least in the sultry world of NARS, seduction should last well beyond Feb. 14. So, while the holiday may be officially over, NARS' new Exposed collection will make you feel as if you're dolling up for a romantic date night — even if you're just sleepily popping on some blush before heading off to work.
Released Feb. 17 on Ulta's website, the limited-edition collection introduces three Lip Duos and six new NARS cheek powder shades. Like NARS collections before it, the new releases' shade names are provocative (from the subtle "Come Hither" to the not-so-subtle "Sex Machine"). The Exposed Cheek Palette retails for $59, while the Explicit Color Lip Duos are $22; a steal, considering you get a mini version of the $27 cult-favorite Velvet Matte Lip Pencil and a matching Lip Tint gloss.
The three Lip Duo shades are from the Velvet Matte Lip Pencil line, as well. Surprisingly, the "Sex Machine" shade is a timelessly pink mauve lip and incredibly wearable. The other two are just as adaptable; the "Intriguing" shade is a rosy neutral, while the fan-favorite "Dragon Girl" acts as the classic bold red. You can wear the Lip Duo's pencil and gloss solo, or layer them together for a deeper, richer color.
But diehard NARS fans will definitely want to try the cheek palette: The six new shades are seriously versatile. You can use the satiny powders as blushes and highlighters, or as light contours and transition shades to blend your face powders seamlessly together. The cheek palette also ushers in NARS' Color Clarity Complex, a formula that promises true, pure color payoff. Ulta notes in the palette's product description that the formula's powder is suspended in a clear base, a technique that gives it the ability to build smoothly and be applied wet or dry.
Wondering why a company that created one of the most popular blushes ever would change up its powder formulation? NARS uploaded a video of its lead makeup artist Jake Broullard showing the importance of the clear base. Because of the formula, Broullard is able to create a natural, beautiful contour on both lighter and deeper skin tones using the Exposed Cheek Palette's shade "Give It Away" — and he goes on to use the exact same shades to highlight and blush, too.
The proof appears right before your eyes: Both models look sculpted, glowing, and rosy at the end. (Though you may not have needed any extra encouragement to grab new NARS cheek powders.) Keep scrolling down to shop the limited-edition cheek palette and Lip Duos. And remember, while you may be able to get the lip shades once the duos are sold out, NARS hasn't revealed if these cheek powders will be available again once the palette's gone.