Narciso Rodriguez's Fresh New Scent Is The Perfect Replacement For Your Heavy Winter Perfume
Courtesy of Narciso Rodriguez Fragrance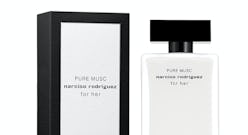 While you've likely pushed your boots to the back of the closet to move open-toe styles to the front and packed up your coats in order to make room for jackets, you may have yet to tackle switching up your perfume. However, just like your wardrobe changes for the season, so should your fragrance. That said, it isn't always easy to find the right one. So, if you're at a loss for where to begin your scent search, the release of Narciso Rodriguez's Pure Musc fragrance couldn't have come at a better time. Why? Because this spring-ready scent will have you ready to start spritzing ASAP.
The newest scent to join the popular "for her" family, Pure Musc has a clean, fresh fragrance that can seamlessly slide into the role of your everyday perfume, thus replacing your go-to heavy winter options. Incorporating the signature floral heart of musc from the "for her" fragrance, this new scent has key notes of white floral bouquet and warm cashmere to create a dynamic, feminine aroma.
"With for her Pure Musc eau de parfum, I wanted to capture the spirit of female duality that resonates from within, qualities that are intangible, for example, elements of the dark side against the lighter side, strength, and vulnerability. Juxtapositions like these are what make a woman so intriguing," said Narciso Rodriguez in a press release from the brand.
Even better? The fragrance is housed in a sleek, minimal black and white bottle, which will make for a beautiful addition to your vanity. Plus, you can select the scent in three different sizes (30, 50, 100 ml) that range in price from $64 to $126. As for your summer travels? Not to worry — you won't have to leave your new spray at home, because it's also available in a mini size for $30 that you can pop in your purse for on-the-go use.
For those already fans of the "for her" line, try layering your new perfume purchase with other products to create an even more intense scent experience. "For her Pure Musc eau de parfum is hypnotic when worn alone; layered with one or more for her scents for her Pure Musc eau de parfum is intoxicating," said Rodriguez in a press release.
Continue on to see and shop the newest fragrance from Narciso Rodriguez and head over to Sephora to scoop it up in the additional sizes.