Nanushka's New Ceramics Collection Is Every Bit As Insta-Worthy As You'd Expect
Nanushka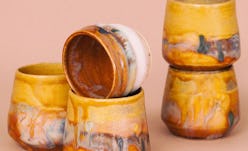 These days, you can't scroll through Instagram without spotting a piece from Nanushka. The Hungarian brand has captured the hearts of stylish women internationally with its endlessly cool offering of clothing and accessories that evoke a sense of effortless femininity. And since it brings together modern silhouettes with luxe fabrics that don't shy away from color, print, and texture, it's easy to see why the designs are so photo-worthy. Now, fans of the brand can bring equally eye-catching pieces into their home décor with the launch of Nanushka's Nanoha ceramics collection.
Founder and creative director Sandra Sandor recently expanded into homewares by collaborating with Noha studio's Natalia Nemes. The newly released collection brings the feeling of the brand to porcelain using clean, minimal shapes that boast beautifully layered and mixed glazed colors. And given that they're all handmade, every piece is slightly unique and one-of-a-kind, which is sure to add a special touch to your shelving.
The family of ceramic styles includes a range of handle-less cups that'll provide the perfect vessel for your beverage of choice There's also a stunning shallow bowl in the mix for $96 that can be used for whisking matcha. While these pieces definitely bring style, they're just as functional — it's noted on the website that they're both dishwasher and microwave safe.
Without a doubt these ceramic styles will refresh your cupboards and table settings just in time for the new season. For those shoppers who seek a hint of color, peek at the FlatWhite Morocco, $62; the vibrant yellow melds with deep lilac, light rose, and a touch of green that makes the the cup a real standout. However, if you're in need of a smaller size to house your a.m. jolt of caffeine, shop the deep blue and caramel colored Espresso Cosmos cup for $57.
The previously mentioned pieces along with the rest of the styles will also make memorable gifts; after all, Mother's Day isn't too far off. On that note, continue on to see and shop pieces from the Nanoha ceramics collection for your home and for your loved ones, too.