Mytheresa's Huge Summer Sale Is Here & There Are So Many Classic Pieces Majorly Marked Down
Mytheresa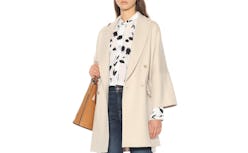 Ask any fashion lover what their favorite part of the upcoming season is, and they'll likely tell you it's the chance to finally wear their summer pieces. After that, they'll probably mention all of the summer sales. With June just around the corner, 2019 is almost halfway over. And while it may be hard to believe, the fashion industry is already starting to look toward fall. With retailers making room for new stock, this is arguably the best time to be shopping. More specifically, Mytheresa's summer sale has so many classic pieces marked down at a major discount, it's too good to pass up.
Let's be real: A love for high fashion isn't exactly the easiest thing on your bank account. But now and then, you might find a diamond in the rough — that is, a beautiful designer piece on sale. Lucky for you, Mytheresa's sale is practically a treasure trove.
The online retailer features a carefully curated selection of pieces from well-known luxury fashion houses as well as smaller but equally cool brands. And right now, Mytheresa is offering up to 50 percent off of chic pieces to fill your wardrobe — including these Rylee Suede Ankle Boots from Chloé, which are available for $819 at 30 percent off.
Take this opportunity to stock up on classic pieces such as these Micky 100 Leather Pumps from Jimmy Choo, which are on sale for $525. These metallic shoes are so versatile, you can style them with a pair of distressed jeans or a classic black dress. If you need an extra layer for the air-conditioned office, the $2,163 Max Mara Fibra Wool and Angora Coat will look amazing with a printed blouse like the $240 Printed Linen Top from Isabel Marant, Étoile.
If you have formal occasions to plan for, you won't go wrong with Prada's Sleeveless Wool and Silk Dress, which is available for $1,435. Wear it with strappy black sandals and carry the $945 Rockstud Spike Velvet Shoulder Bag from Valentino Garavani for a black-tie event.
Mytheresa also has tons of stylish items for your everyday moments, too. GANNI's $196 Denim Shirt Dress will be perfect for a summer picnic when paired with the $147 STAUD Shirley Tote and sleek sneakers. And just in case you're looking for another cool bag to wear with everything, this BOYY Bobby 23 Leather Tote is available for $634.
Ready to fill your wardrobe with classic pieces? Scroll down to see more items you can get from Mytheresa's summer sale.