Mr. Larkin Just Launched A New Collection & It's Going To Make Packing For Your Next Vacation A Breeze
Courtesy of Mr. Larkin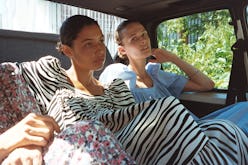 No matter where you're going, packing for a vacation always seems to involve a mixed bag of feelings — especially if you're planning your outfits. As thrilling as it can be to finally take time away from the office and explore somewhere new, figuring out what to pack — all while remaining under your airline's weight limit — can verge on the side of stressful. That said, Mr. Larkin launched its Pre-Fall 2019 collection on its site on June 26, and it has the only pieces you'll need for your next getaway.
Perhaps you've followed the happenings of Mr. Larkin for a while, but in case you haven't, the brand is about to be a mainstay on your radar. Founded by Casey Larkin Blond, Mr. Larkin is a womenswear brand and boutique based in Houston and Copenhagen. Known for its in-house label and curation of eclectic brands such as Maryam Nassir Zadeh, Sophie Buhai, and Mari Giudicelli, Mr. Larkin is the embodiment of Blond's lifestyle and aesthetic.
The brand's Pre-Fall 2019 collection — which is made from 80 percent deadstock fabrics — features pieces inspired by surf culture. With the idea of "throwing on your favorite dress in the back of your car with sun-kissed skin and salted hair," in mind, the collection features a two-piece set and a series of airy dresses available in floral patterns, classic prints, and vibrant shades.
This capsule is also Mr. Larkin's first direct-to-consumer collection, which means that it's available exclusively in its store and on its website. The label decided to make this collection direct-to-consumer as a way to provide its customers with a more accessible price point.
If you've been a fan of animal prints lately, take the $320 zebra print Ode dress with you on your next trip. Style it with the matching belt for a more structured shape, or wear it on its own with a pair of flat leather sandals. And just in case you want to wear other versions of the dress, it also comes in a ditzy floral print, neon green, and soft blue.
When you aren't coming straight from the beach, wear the Penny May dress, $310, with minimalist strappy sandals for a night out at dinner. With vintage-inspired details like puff-sleeves and a button-down front, this dress will feel like a modern classic.
Ready to start shopping for your next set of vacation ensembles? Keep scrolling for a few pieces, and then head over to Mr. Larkin's site now to shop the full Pre-Fall 2019 collection.