Kardashian Matriarch MJ Houghton Is So Stylish, Her Grandkids Steal Her Clothes
Courtesy of MJ Shannon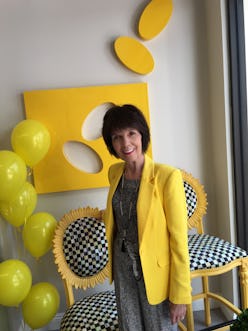 MJ Shannon may be most well-known for being the matriarch of the Kardashian-Jenner family, but she's been making waves in fashion long before KUWTK hit the airways. Learning to sew from her mother (who made many of Shannon's clothes as a child), Shannon took her fashion prowess to market, opening several ladies' and children's boutiques in La Jolla and San Diego, California. She also operated various shops — candles and antiques — over the past 32 years. As she phrases it, "I'm always in business."
As for her personal style? Shannon, 84, says that while she is all about being comfortable these days, she still loves dressing up in classic, timeless pieces when it's time to go out (and there's one Gucci coat in particular she refuses to get rid of). The Zoe Report caught up with MJ Shannon to talk about her legacy, her fashion role models, and how often her grandchildren come over to steal her vintage clothes.
What piece in your wardrobe instantly makes you feel more confident and why?
I really think I feel more confident, when I'm working, wearing a blazer or a jacket or a coat. Sometimes a hat, layering, and a little bit dressed. I feel less vulnerable if I'm dressed properly. I don't feel good going to work in a sweat outfit or something. It happens occasionally, but it's not a plan.
How would you define your personal style?
Classic. I'm a Ralph Lauren girl. I've been wearing Polo and things like that for years, riding pants and boots.
In the comfort versus style debate, where do you fall?
In between. I wear a lot of comfort clothes now that I'm older. I'm 84 and a half now, so I want to be comfortable. I like to dress up, but I don't do that every day, of course, and now that I'm retired, less and less. But I still love to get dressed when I go out.
When my kids were little, Kris and her sister, I'd dress them better than most of the kids on the block because that was my passion.
Tell me about the role style has played in your career?
My mother was so good at sewing, she made all my clothes that I designed. I always designed the Jackie O look and had to have the sleeveless dress and look that way, and I loved it. That was my style.
Do you think that opened doors for you?
I think it opened doors to my career, definitely, because when my kids were little, Kris and her sister, I'd dress them better than most of the kids on the block because that was my passion. I would sew the clothes myself if I had to, or my mother. It led my way to having two children's boutiques, and also a fashion boutique for ladies.
It seems life events, like having children, inspired your business decisions.
Yes, I think that definitely played a part. I had two girls, no boys, so I kind of went for the dresses and the Mary Janes and the little bonnets and all that. I definitely wanted a children's store later on.
How has your style evolved over time?
I think it's the same. Actually, I still have the same Gucci coat that I bought back in the '80s. My husband wanted to buy me something special and I said, OK, I want a Gucci coat, and I went and bought one on Rodeo Drive.
So your style wasn't changing as time progressed.
No, I wore that coat to Paris when Kim got married. I bought a purse later to go with it from the same Gucci store. I still have some of the clothes I had back in the '50s, believe it or not.
So you don't believe in "dressing for your age," then?
No, I guess not! Or maybe I've always dressed old, I don't know. I just wear classic clothes. Nowadays, too, I think Ralph Lauren and Tommy Hilfiger are great lines for people of almost any age.
At my age, I definitely wouldn't wear a mini skirt, which I did back in the what, the '60s? I used to wear hot pants with the red, long maxi dress over it. I went with the trends, but I would definitely not wear that now, of course. So I think I have evolved.
What fashion category would you like to see more of?
I'd love to see gloves and hats come back, and dresses to the knee. You know, a little more ladylike. Maybe stockings, people wearing stockings again. I know they do in England. It's very practical if you're in New York, especially.
Tell me about your daily uniform.
Well, every day is comfort for me lately. I have a bad back, so I'm not out every day like I used to be. Right now I have on an old Juicy cashmere outfit. I mean, that's an old one, and so comfortable. And I have on some tennies, and I'm just planning to be home today. So that's what I would say would be an everyday thing. I probably won't go any place fancy in that, but it's very comfortable.
Tell me about what style item you covet the most.
I sort of collect sweaters. I love sweaters because they're comfy and warm, even in California. Cashmere's my favorite.
Everything that I like I sort of duplicate so I'm not without.
Do you have a specific designer that you really like?
Alexander McQueen.
Is there a fashion item you always gravitate toward when you're in a store?
I'm a shoe person. I just bought two pairs of Chanels over the holidays, and my daughters give me Chanels. They have pretty good taste so, you know.
What item do you own multiple versions of and why?
Everything that I like I sort of duplicate so I'm not without. Once I have everything that I need, I really don't go out shopping that much. If I go with the kids, it's fun, but I don't go out looking for myself unless I really need something.
What is one outrageous luxury fashion item you would invest in, and why?
Maybe I'll update my Gucci coat.
What does the Gucci coat look like, out of curiosity?
Oh, it's white wool. It has a little leather collar and leather buttons. It's basically a white, off-white, kind of a swing coat to the knee. It's very classic. I can wear it with either leather pants or just black pants and leather shoes. You can change it up a lot of ways.
Can you recall an outfit that you've worn that was iconic?
I remember a lot of my prom dresses, because I designed them myself along with my Jackie O dresses, but my mom would make them for me, and she was so good. One was this strapless gold lamé, body hugging to the hip, and then black tulle, princess style, for my prom. It was black and gold, and I've always loved black with gold for evening. My mother always brought that dress up and said, "Where is that dress?" I don't know where it is. I wish I still had it.
It must have been so incredible to have such a talented mother.
Oh, she was the best. I think that's where Kris gets a lot of her drive.
Which item in your closet have you owned the longest, and why?
I have Ralph Lauren Polo boots that I've had forever. They're the traditional style, like the riding boots. I've collected boots for a while now, I don't anymore. I have one pair of Ralph Lauren that's probably 30 years old. They have the leopard cuff at the top, and that was before leopard became so widespread.
Are they all in good condition or have you been walking in them for a long while?
I think they're all in good condition, if I can find them. I recently moved up to Calabasas to be near the kids. Kris wanted me to. At a certain age, you do. I don't know where they are. Probably in my home in San Diego.
I see a lot of [my style] in Kim and I see a lot of it in Kourtney and I see all of the girls. I can see things that I did that they do style-wise.
Is your closet quite large, or do you keep it streamlined?
It's pretty small right now because I have a condo. In San Diego, I have three or four closets and they're all small because it's an older house. We find room.
Finally, we touched on it a little bit about this wonderful generation of women that you've helped raise and women who, in turn, have influenced every aspect of pop culture. Do you feel, in turn, that you have influenced fashion by raising this dynasty?
You know, I do in a way, because I see a lot of it in Kim and I see a lot of it in Kourtney and I see all of the girls. I can see things that I did that they do style-wise. I contribute half of my style to my mother and then my influence of Jackie O. Really, she was my go-to. If I didn't know what to wear, I'd find something of hers and have my mom make it. I feel like you have to have someone to look up to, you know?
I think if you look up to your mom or you look up to the latest fashion icon, that's who you're giving your credit. I think you always have to have a role model. I don't know that I'm their specific role model, but I do feel like I've played small parts.
Is there any other style advice you have?
Keep the things you love and don't throw them away just to clean your closet. My grandkids love it if they find something vintage that I have. It's gone. They take it. So I think people should hold on to things that they love and not just ditch them.
It's so serious because things like my prom dress that I was telling you about, the beautiful black and gold — if I had it now, I think I'd frame it, I'd be so glad to see it. But you get rid of these things over time and then you think, gosh, I wish I'd kept that for my granddaughter, you know?
This interview has been edited and condensed for length and clarity.