Minimalist Chunky Jewelry Sounds Like An Oxymoron, But It's A Major Trend
Courtesy of Missoma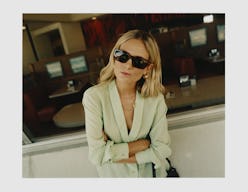 When you commit to specific rules about your personal style — only wearing black or faithfully relying on a specific outfit formula every day — it can be hard to deal when a trend catches your eye that falls outside of said boundaries. This is especially true if you consider yourself a serious minimalist, as a lot of this year's maximalist-leaning trends can feel out of reach. Take the most recent '80s-informed chunky jewelry craze, for instance. It's inherently a lot — boasting bulky, borderline gaudy chains and pendants — but chunky minimalist jewelry is actually an unexpectedly prevalent option. Yes, to the sweet relief of minimalists everywhere, there's a way to get in on the look in a much more understated way.
"Whilst the chunkier chains and bold earrings are there to make a statement, simpler snake chains and delicate crosses are pieces which can be worn every day, alone, or layered," Marisa Hordern, founder and creative director of London-based jewelry brand Missoma, tells TZR. The brand just debuted its 1987 collection, the third permanent collaboration with British blogger and stylist Lucy Williams. The collection makes the case for minimal chunky jewelry with wide flat-lay chains and unique gold links, oversized styles that still play to a sleek, minimalist aesthetic. Even though it may first sound like an oxymoron, the downplayed versions of this trend evokes the same nostalgic feeling of digging through a relative's old jewelry stash and finding a forever piece.
"There is certainly an '80s renaissance happening through fashion, music, film, and TV ... think Stranger Things ... over the last year," adds Hordern. And the rest of the industry surely agrees, considering just how much we saw the decade represented on the Fall/Winter 2019 runways last season. Designers like Bottega Veneta, Givenchy, Altuzarra, and Gucci all leaned into bold gold baubles, while direct-to-consumer brands like Missoma, The Last Line, and Mejuri, along with historied costume jewelers like Kenneth Jay Lane all worked to make the trend accessible to the masses.
Ahead, you'll find a handful of chunky gold necklaces, rings, and earrings that celebrate and explore the trend while still being just understated enough to make minimalists feel welcome. Scroll through (and shop!) below.
Necklaces
Understated chunky necklaces are the perfect happy medium between dainty chains and thick, in-your-face hardware. The wide-set flat-lay pieces (with the occasional charm or two) are capable of being the star of your outfit or a supporting character — it's all up to you.
Earrings
Fact: A gold hoop will always be on trend. But for the styles playing into the aesthetic cues of the '80s and '90s, texture brings the classic shape to the next level — from croissant doming to double hooping and ribbed rows set along sleek curves. To make it understated, look to shrunken down, mini options.
Rings
Thanks to the timeless signet style, the concept of a minimal, clunky ring doesn't really require any stretch of the imagination. Keep it classic with an all-around smooth piece or go for something more abstract with carve-outs and ridges.