Gigi And Bella's Stylist Swears By This Denim And Boot Combo
Marc Piasecki/GC Images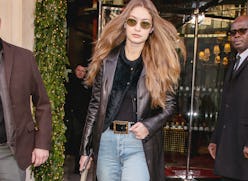 Denim is denim is denim, right? Not so much if you're Mimi Cuttrell. The stylist is known for dressing Gigi Hadid and her sister Bella, along with Priyanka Chopra and Lily-Rose Depp. And, as part of her outfit-making responsibilities, Cuttrell has helped to define the street style trends of the current era — putting her clients in denim washes and fits that may not be on the wider industry's radar just yet, which is why Mimi Cuttrell's collaboration with denim brand 3x1 makes perfect sense. She's not only helping to usher in what the next era of blue jeans will be from a styling perspective, she's designing it too.
"I am moving away from very tight skinny jeans and more into denims that have nice shapes," Cuttrell tells TZR, speaking to both the relaxed and flared fits that are core to her collection. "Playing with different silhouettes is a fun part of my job, and you can really dictate a different style narrative depending on the cut of denim you wear." Cuttrell's work has helped to launch small brands — currently, both Hadids are as often in emerging labels like Kim Shui or Maisie Wilen as they are in Chanel and Dior — and effect the trend cycle, helping to usher in athleisure, and later leading a reprisal of sharp suiting. But, through it all, denim has remained a constant element of the looks she styles.
"I was inspired by the long history of denim, bringing back my favorite vintage shapes while incorporating a modern twist to them," Cuttrell explains of her collection, which includes both an '80s-style high rise and '90s-era flares with tailored touches that feel entirely relevant right now. Cuttrell has a knack for putting together outfits that are fluid — elegant and edgy, relaxed and sophisticated — and look just as good shot by paparazzi on the street as they do in a selfie from inside a fancy event. For many women, it's increasingly important to prioritize this idea of transitional dressing, finding items that work for the airport just as easily as for an evening in high heels. Denim is one of those categories that, when styled right, fit both.
Right now, the go-to style for fashion insiders is the "mom jean" a high-waisted silhouette with a straight or relaxed leg. For those who travel all the time (like Cuttrell's clients), they're roomy and allow for movement. "I often think about effortless style and comfort when it comes to traveling," Cuttrell says, suggesting the Diana jeans or Kirk jeans ($265). "They feel like sweatpants." At the same time, a light-wash style that is well tailored and has a bit of structure and heft to it can also feel polished, making a great foil to heels for a done-up-but-not-overly-so effect. "I love the versatility," she explains of the style. "You can easily dress it up or down."
But, for those who aren't so enthused about roomier cuts, no need to fret. There's another style slowly claiming more market share: flared jeans. While low-rise boot-cut versions dominated the late '90s and early '00s, it's only recently they've begun to re-take real estate in closets. "I do think they are making a comeback," Cuttrell explains. "Depending on what occasion you are wearing them for I would suggest styling them with your favorite sneaker for a more relaxed look or a nice kitten heel for a dressier combo."
No matter your preference for denim, Cuttrell does have a singular styling suggestion for this winter. "I've been really into cowboy boots lately and love to style them under either a straight-cut denim or a flare," she suggests. "I find it elongates the leg and creates a really beautiful silhouette!" So, if you're looking to swap your traditional black booties for more of a statement look, move fast. Try the trend, and when one of Cuttrell's clients inevitably steps out in the same combo, you can tell your friends you wore it first.